AY2018
過去の公開講演
Roma and Travelers: The Impact of EU Integration on Ethnic and Linguistic Identity
Ignacy-Marek Kaminski
日時:10月18日 15:30 - 17:00
場所: 国際基督教大学本館 H-152
Dr. Ignacy-Marek Kaminski addresses several questions about the language and cultural life of Roma-Gypsies. Why have 12 million Roma-Gypsies survived as EU's largest ethnic minority in 2018? Why have my relations with Roma clans continued for 45 years? How can Roma tribes communicate without sharing common language? How do Roma's cultural identity, social control, conflict resolution, leadership networks operate?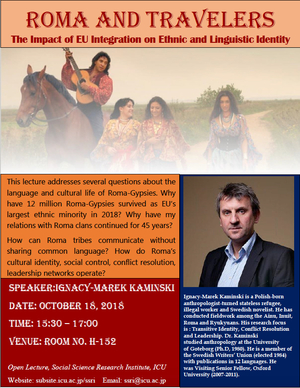 ---
『隣る人』 上映 ー 企画者稲塚さんとともに
日時:10月18日(木)10:10−12:40(2-3限)
場所:国際基督教大学 本館 H-304
8年間日本の児童養護施設の子どもたちを記録した映画です。文化庁映画賞など多くの賞を受賞したこの映画を、企画者の稲塚由美子さんをお招きして観ます。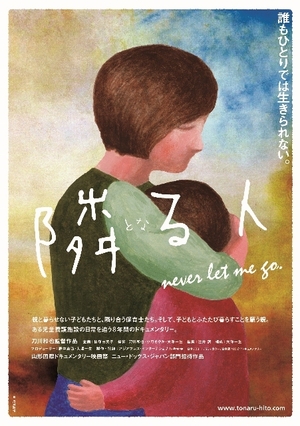 映画紹介

地方のとある児童養護施設。ここでは様々な事情で親と一緒に暮らせない子どもたちが「親代わり」の保育士と生活を共にしている。マリコさんが担当しているのは、生意気ざかりのムツミと甘えん坊のマリナ。本来、親から無条件に与えられるはずの愛情だが、2人にとっては競って獲得しなければならない大事な栄養素。マリコさんを取り合ってケンカすることもしばしばだ。そんなある日、離れて暮らしていたムツミの母親が、ふたたび子どもと一緒に暮らしたいという思いを抱えて施設にやってくる。壊れた絆を取り戻そうと懸命に生きる人々の、平凡だけど大切な日々の暮らしは今日も続く。
(『隣る人』ウェブサイトより http://www.tonaru-hito.com/)
『隣る人』 予告編:https://youtu.be/aD_OkGxXyew
---
幸せのマニフェストー消費社会から関係性の豊かな社会へ
ステファノ・バルトリーニ(シエナ大学政治経済・統計学部)
日時:9月28日 15:10-18:30
場所:本館 H-213
Prof. Stefano Bartolini introduces the outline of his book Manifesto for Happiness: How to Shift from the Society of Well-having to that of Well-being, whose Japanese translation was published in August 2018. In this book, Bartolini explains complex relationships between economic growth and the decline of happiness in the US society, using a highly original theoretical model called the 'defensive growth' model. He also brings to light the problems of post-democracy which lies at the heart of consumerist society and delineates how political elites in advanced societies follow the interests of big business at the expense of well-beings of ordinary citizens. His work not only reveals institutional problems of market-driven capitalism but also highlights socio-political backgrounds in which the right-wing reactionary populism emerges in advanced societies such as US and Europe. As opposed to the prevailing dooms-day scenario, Bartolini proposes the transition to post-growth and the implementation of policy programmes for relational society.
---
医療における人災
村上陽一郎 ICU名誉教授(科学史・科学哲学)
日時: 9月27日(木)13:15 - 15:00 (ロング4)
場所: 本館 H-364教室
医療では、工業技術における安全係数よりも遙かに低い安全率で満足しなければならない上に、HF(ヒューマン・ファクター)もしくはHE(ヒューマン・エラー)の防護にも、極めて高いハードルがある。直接人命を扱いながら、そのような宿命を持つ医療を、どのように考えればよいのか。
講演ポスターはこちら:(2018.9.27)医療における人災.pdf
---
Politics and Protest: 1840s-1880s: Creating the people's voice 民声の構築
by Emeritus Professor William Steele, International Christian University
日時: 4月24日(火)13:15~15:00
場所: 本館1階 H-152
The voice and language of political protest in Japan has sounded throughout modern Japanese history. This lecture explores the culture of popular protest - its language and visual expression - in the late 19th century with reference to 20th century ideas of popular protest.
---
Protean Power: Exploring the Unexpected and Unpredictable in World Politics
by Professor Peter Katzenstein, Walter S. Carpenter, Jr. Professor of International Studies, Cornell University
日時: 4月18日(水)16:30~18:00
場所: 教育研究棟 (ERB) 2階 247/249
This lecture discusses how the dynamics of protean and control power can be tracked in the relations among different state and non-state actors, operating in diverse sites, stretching from local to global, in both times of relative normalcy and moments of crisis.
---