終了しました

[IERS] 公開講演 「Okinawan Women's Stories of Migration: From War Brides to Issei 」

2023-01-07
---
講演タイトル: Okinawan Women's Stories of Migration: From War Brides to Issei
講演者氏名: Dr. Johanna Zulueta (東洋大学)
講演日時: 2023年1月25日 (水),17:00
講演会場: H-364
講演言語: 英語
内容:
ABOUT THE BOOK
The phenomenon of "war brides" from Japan moving to the West has been quite widely discussed, but this book tells the stories of women whose lives followed a rather different path after they married foreign occupiers. During Okinawa's Occupation by the Allies from 1945 to 1972, many Okinawan women met and had relationships with non-Western men who were stationed in Okinawa as soldiers and base employees. Most of these men were from the Philippines.
Zulueta explores the journeys of these women to their husbands' homeland, their acculturation to their adopted land, and their return to their native Okinawa in their late adult years. Utilizing a life-course approach, she examines how these women crafted their own identities as first-generation migrants or "Issei" in both the country of migration and their natal homeland, their re-integration to Okinawan society, and the role of religion in this regard, as well as their thoughts on end-of-life as returnees.
ABOUT THE AUTHOR
Johanna O. Zulueta is Associate Professor at the Faculty of Sociology of Toyo University. She received her A.B. and M.A. from the Ateneo de Manila University, and her M.A. and Ph.D. in Sociology from Hitotsubashi University as a Monbukagakusho scholar. In 2011-2013, she was a Postdoctoral Fellow of the Japan Society for the Promotion of Science (JSPS). She does research on migration, ethnicities, military basing, gender and families, citizenship, and ageing. In addition to peer-reviewed articles in both English and Japanese, she also edited and wrote books. She currently sits on the Editorial Board of the Annual Journal of the Japan Association for Migration Studies and the Clinical Sociology Review. She is also a Regional Representative of the Research Committee on Clinical Sociology of the International Sociological Association (ISA) as well as a steering committee member of the Philippine Migration Research Network (PMRN). She is presently doing research on ageing migrants in Japan's rural areas.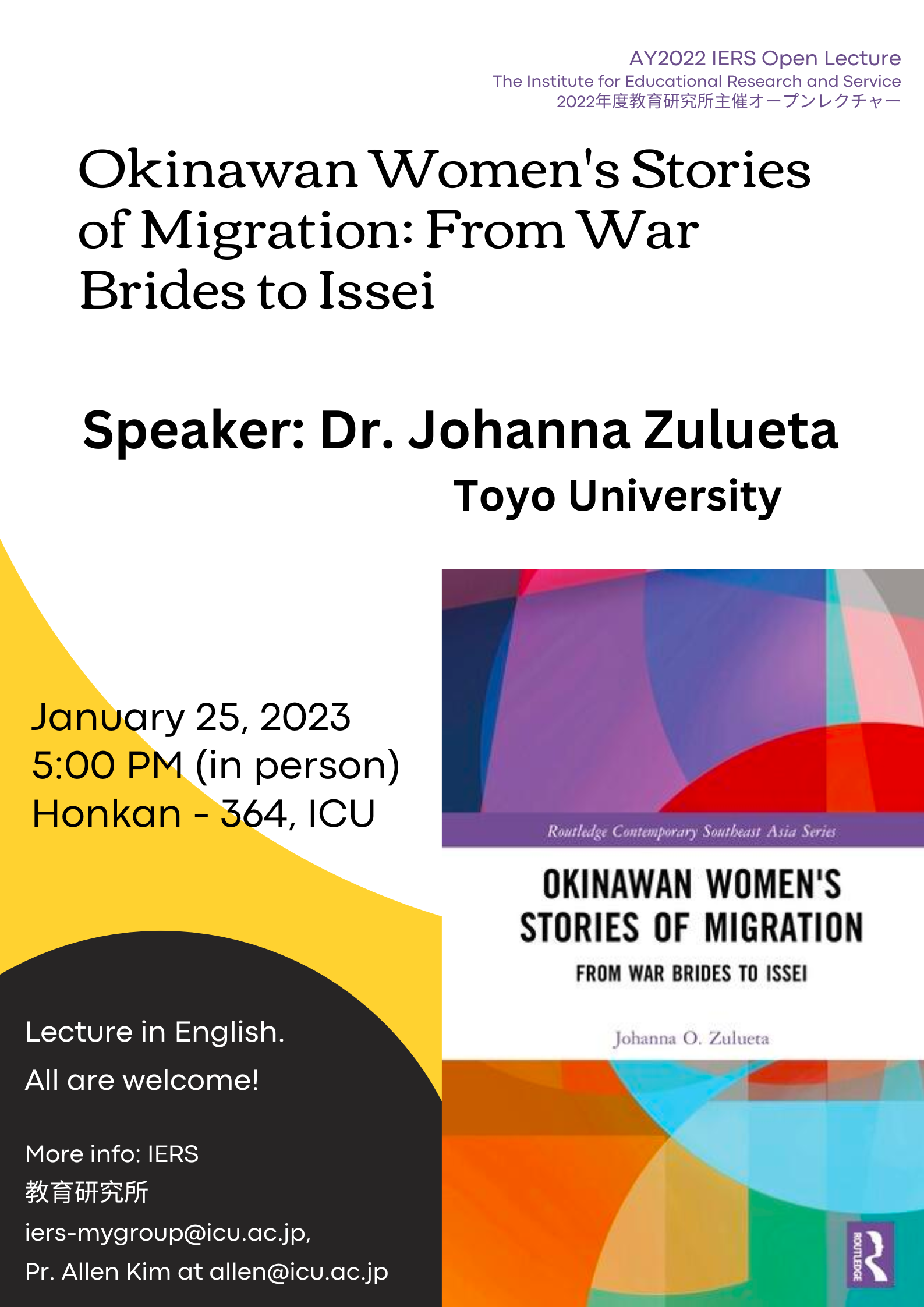 お問い合わせ:教育研究所​
iers-mygroup@icu.ac.jp​,
Pr. Allen Kim at allen@icu.ac.jp