Open Lectures
Forthcoming Open Lectures
– Records of ICC Open Lectures
– Records of History of Science Open Forum
Lecturers belong to ICU, unless otherwise specified (titles as of lecture date).
Discipline names indicate fields of study, not necessarily of teaching.
---
ICC Special Open Lecture
---
AY2023-2024
ICU ICC 60th Anniversary Symposium
Perspective on Nature and Environmental Ethics in the Old Testament

Date: September 29th - October 1st, 2023
Venue: International Conference Room, Dialogue House, ICU and Zoom

The symposium is a hybrid conference: it will be held face-to-face AND online.
You need no registration to attend face-to-face.
If you would like to join the conference via Zoom, please find the registration form <HERE>.

【Program】

Day 1   10:10-16:20, Friday, September 29th
Dr. Raymond F. Person, Jr.
"Down in the Dirt with Deuteronomy: A Pig Farmer Reflects on Writing a Commentary"
Dr. Mari Joerstad
"I Have Healed These Waters: An Exploration of Contributions of Animism to Biblical Studies"
Dr. Hilary Marlow
"The Land, the Poor and the Rich: An Ecojustice Reading of the Book of Amos"
Dr. Eckart Otto
"Nature, Law, and Dominance as Keys to an Environmental Ethics in Ancient Near Eastern Mythology, Biblical Theology, and Greek Philosophy"

Day 2   10:10-15:00, Saturday, September 30th
Dr. Kevin Chau
"Brotherly Nature and Nature Metaphors in Jacob's Farewell Poem"
Dr. Yoshinori Sano
"The Functions of the Earth in Hesiodic Epics"
Dr. Monica Melanchthon
"Joshua 5:2-12: 'Ceremony of Arrival': Implications for the Israelites, the Land, and the Natives"

Day 3   13:50-17:40, Sunday, October 1st
Dr. Ryosuke Fujinuma
"Do We Understand the Time for Everything?"
Dr. Eckhard Hitzer
"Man's Influence on Nature Viewed through the Lenses of Science and Old Testament"
Dr. Johannes Unsok Ro
"'Give Ear, O Heavens, and I Will Speak': The Non-human Realm in Deuteronomy"
*You can download the poster from <HERE>.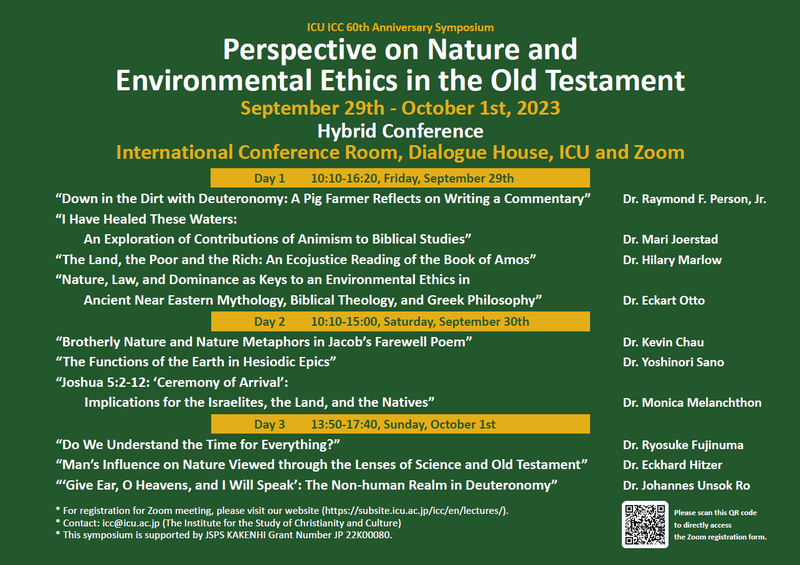 なほうとまれぬICUかな*
Lecturer: Professor Emeritus Tzvetana Kristeva (ICU, Japanese Literature)
Date&Time: 13:50-15:00, September 25th, 2023
Place: Alumni House, 2nd floor, Lounge
* Language: Japanese
* Co-organized by Institute of Asian Cultural Studies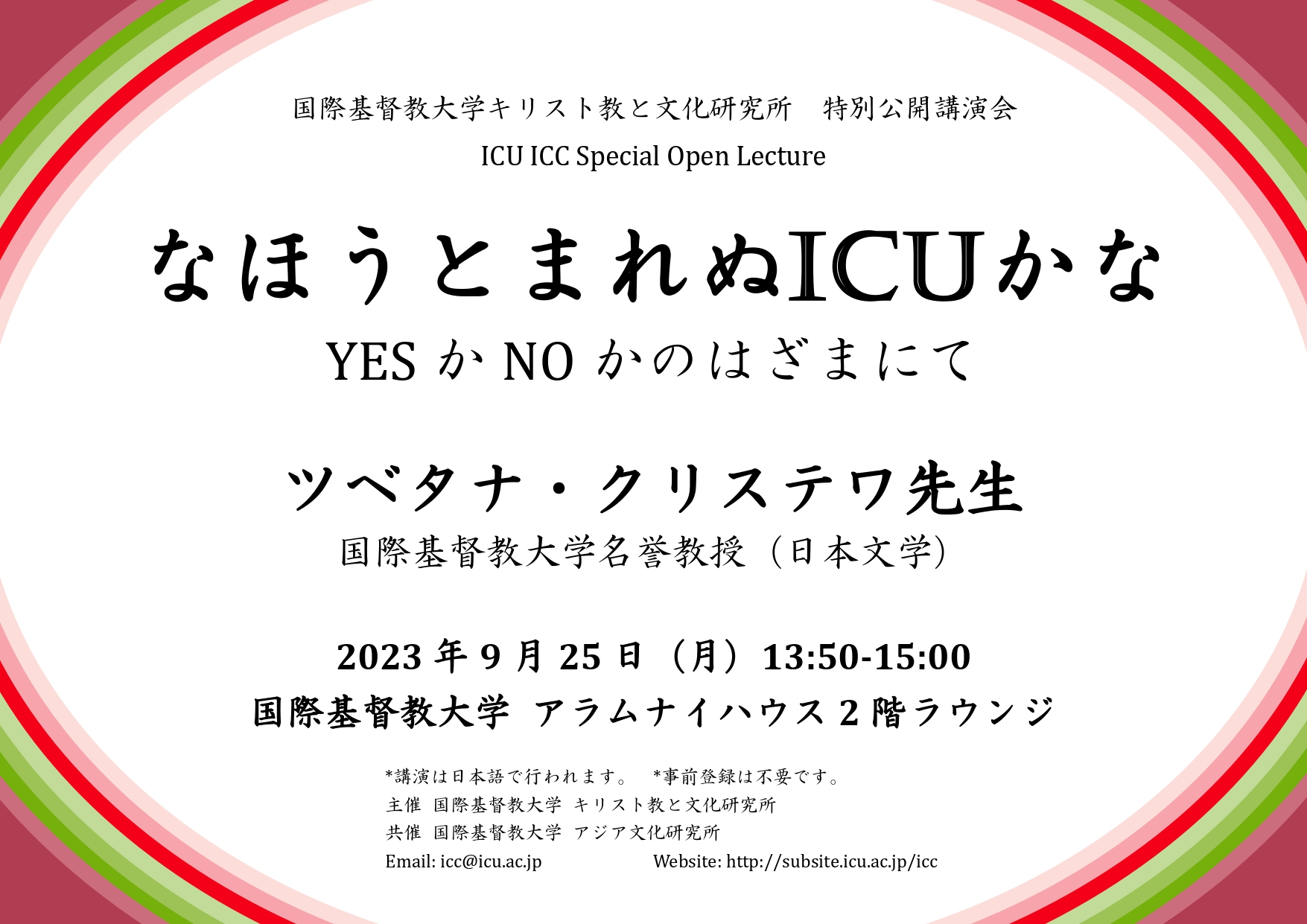 Against Compulsory (Hetero-)Sexuality: From Asexual Perspectives*
Time & Date: 12:30-18:30, 7th October  2023
Place: 2nd Floor, Dialogue House, International Christian University
*Language: Japanese
Hosted by Center for Gender Studies
*Registration Form:  https://forms.gle/JfDEb82XARPyeWkHA
 *Pre-registration is required
*Registration is now closed. If you would like to cancel your registration, please contact Center for Gender Studies (cgs@icu.ac.jp).
*If you would like to be on the waiting list, please contact Center for Gender Studies (cgs@icu.ac.jp). Thank you for your cooperation.


Directions to the Campus
Train and Driving Directions on the University Website
On-Campus Directions