Lecture:Promoting Diversity through Understanding How Majority Privilege Works
Tuesday,May 14,2019
---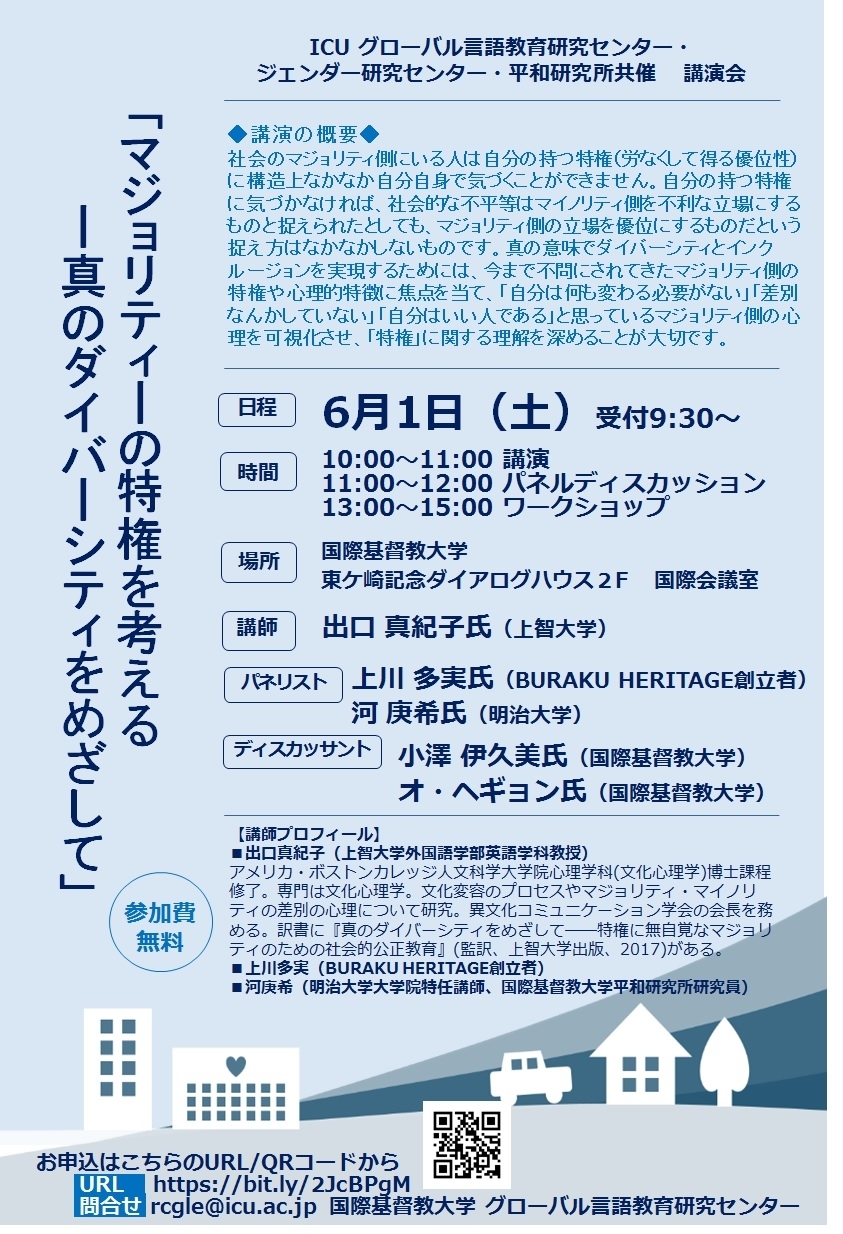 《Title》
"Promoting Diversity through Understanding How Majority Privilege Works"
Sponsored by ICU Research Center for Global Language Education・Center for Gender Studies・Peace Research Institute
《Lecturer》 Dr. Makiko Deguchi(Sophia University)
《Panelist》  
Ms. Tami Kamikawa(BURAKU HERITAGE Founder)
Prof. Ha Kyung Hee(Meiji University)
《ディスカッサント》
Prof. Ikumi Ozawa (ICU)
Dr. Ohe Hye-Gyeong(ICU)
《Date》 1st, June 2019 (Sat)
《Time》 (Reception 9:30~) 
10:00~11:00 Lecture
11:00~12:00 Panel discussion
13:00~15:00 Workshop
《Place》 International Christian University (ICU) Kiyoshi Togasaki Memorial Dialogue House 2F International Conference Room
《Overview》
Lecture (morning session):
Members of privileged groups often have a difficult time coming to the realization, on their own, that they have privilege (unearned advantages based on social group membership). This is because many mechanisms are in place that blind us to this awareness. But unless we begin to recognize our own privileges, we can end up having a one-sided view of oppression—considering that privilege and oppression are two sides of the same coin. People often think that injustice works to disadvantage members of minority groups, but do not think that the same system work to advantage members of dominant groups. In order to achieve true diversity and inclusion in our society, we need to understand previously unexplored characteristics of privilege afforded to dominant groups, as well as the psychological characteristics of those in the dominant group. Members of dominant groups often feel "I don't discriminate against others," "I am a good person," and "There's no further work I need to do on myself." In this one-day workshop, we will deepen our understanding about privilege and the importance of privilege awareness for members of dominant groups.
Panel discussion (morning session):
We all carry both majority and minority identities. In the panel discussion, we will focus mostly on ethnic/racial privilege afforded Japanese people who belong to the dominant ethnic/racial group in Japan. The panel will feature three people—one Japanese, one Zainichi Korean, and one with Buraku ancestry—to discuss how having certain privileges and not having other privileges operate and manifest in their everyday lives.
Workshop (afternoon session):
Please join us for hands-on activities that will allow us to further experientially understand the concept of privilege.
Please register at →https://bit.ly/2JcBPgM