[平和研究所] 'Gender, Climate Security and Protection Issues in the Islands of the North Pacific'開催のご案内
2023-06-19
---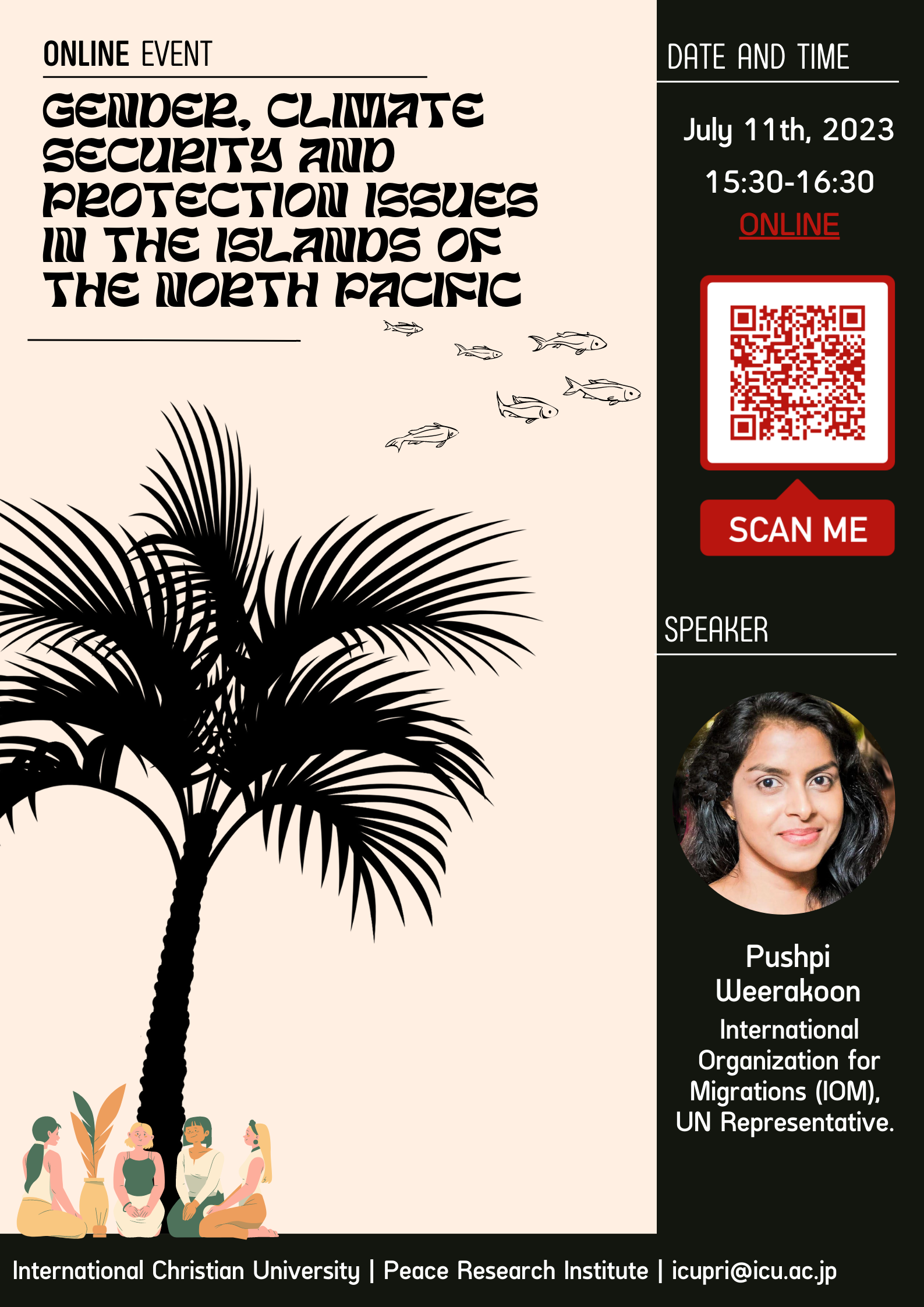 Gender, Climate Security and Protection Issues in the Islands of the North Pacific(平和研究所・日本国際平和構築協会共催)
2023年7月11日(火)開催
時間:15:30ー16:30
開催形式:Zoom
Zoomリンクは以下のアドレスにあります。
https://forms.gle/A7q4dAjDnwJAErr18

Program Outline
15:30 Introductory remarks
WITEK Maciej, Rotary Peace Fellow, Communication Officer of Kyoto Peacebuilding Center (KPC) and Global Peacebuilding Association of Japan (GPAJ).
15:35 Keynote speech on "Gender, Climate Security and Protection Issues in Northern Pacific"
WEERAKONN Pushpi, Sub Regional Program Manager, Marshall Islands, Micronesia & Palau, International Organization for Migration
15:50 Expert Panel  
KUMAGAI Naoko, Vice President of Global Peacebuilding Association of Japan, Professor at Aoyama Gakuin University, School of Global Studies and Collaboration
AYCOCK Brian, PhD Candidate at International Christian University, Adjunct Lecturer at Chuo University
16:10 Questions and Answers
16:30 End


Pushpi Weerakoon is a specialist in peacebuilding, restorative justice, migration management, development, and diplomacy, with experience spanning Asia, Europe, Middle East, Caribbean, Central America and the Pacific. Presently she's the head and subregional manager of the Gender and Prevention of Sexual Exploitation Abuse Harassment (PSEAH) Unit for the International Organization for Migrations (IOM) while also managing gender-related projects for IOM Micronesia, Marshalls Islands and Palau. Previously she was the Subregional Program Manager at IOM El Salvador and also provided emergency assistance at IOM Haiti. In 2020 she was the Project Coordinator of the Hurricane Dorian Emergency Program at IOM Bahamas. In 2019 at IOM Bangladesh, she headed the Emergency Support Unit providing her expertise to design the 'Social Cohesion Strategy' and coordinated the 'Rohingya Refugee Crisis' management efforts. In 2018 she was at IOM Iraq creating conditions for implementation of Reparations for Survivors of Conflict Related Sexual Violence. In 2009 she was awarded the Rotary Ambassadorial Scholarship.

The Republic of the Marshall Islands (RMI) is an independent Pacific Island nation that lies in the north-western Pacific Ocean. RMI is made up of 29 coral atolls, each containing many islets surrounding a lagoon, and five islands. However, only 22 atolls and four islands are inhabited. In 1979, RMI gained its independence from the United States of America (USA) to become an independent sovereign state. A Compact of Free Association between RMI and USA came into force in 1986. Althought the government of the Republic of the Marshall Islands (RMI) introduced a legislation to resolve problems like sexual harassment and violence, human trafficking and sex tourism, it is currently inadequately applied and does not meet the minimum standards for the elimination of such issues.
The RMI Constitution grants protection to customs and traditions, with no provision for giving priority to the rights of individuals whom customary law discriminates against (including where it is discriminatory against women), in non-compliance with the Convention on the Elimination of all forms of Discrimination Against Women (CEDAW). It should be noted that customary law can in some circumstances be advantageous to Marshallese women, specifically in terms of the tradition of matrilineal property title. Climate change and rising sea levels pose the gravest risk when it comes to food and physical security for Marshallese women, a culture in which primary care is a traditional role afforded to women. In a matriarchal society where women are the custodians of land, culture and tradition, the threat of climate change in destroying atolls and land poses an even greater risk to the depletion of language and identity. This precarious situation heightens poverty and increases the vulnerability of women.
イベントに関するご質問等はicupri@icu.ac.jpにご連絡ください。
ご参加、是非お待ちしております!