Open Lecture on "Rwanda - Reconciliation and Commitment to live together after the great genocide - Challenges and Hopes" (Co-hosted by PRI)
Thursday,May 12,2022
---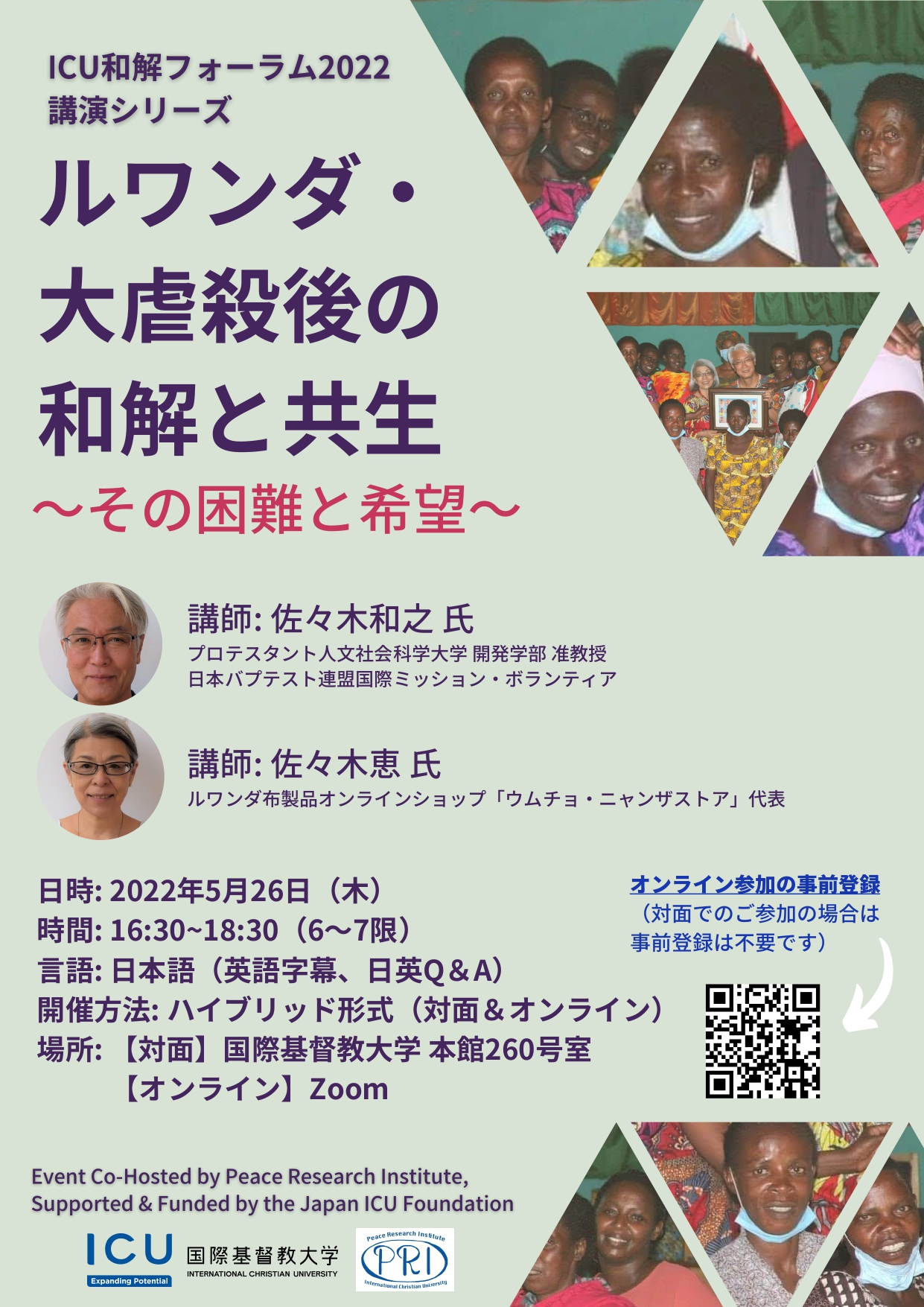 "ICU Reconciliation Forum Spring 2022 Speaker Series"(Sponsored by Japan ICU Foundation)
"Rwanda - Reconciliation and Commitment to live together after the great genocide -  Challenges and Hopes" (Co-hosted by Peace Research Institute)
Thursday, May 26, 2022
"28 years have passed since the Rwandan genocide which shocked the world. Since then, Rwanda has become a country that attracts attention for its exceptional economic development, advancement of national reconciliation and innovative environmental policies.  However, people still carry the deep emotional and physical wounds left behind by the long years of civil war and genocide, and the struggle for healing, reconciliation and community building continues even now.
Reflecting on our 17 years of living here, we will share our stories of working closely with people at the grass-roots level in their challenging efforts for reconciliation in the hope of re-building the community, and we will talk about the signs of hope that we see."
This event will be the third lecture in the "ICU Reconciliation Forum Spring 2022 Speaker Series". If you are interested in learning more about this entire series, please see the end of this announcement.
- Guest Speakers -
Prof. Kazuyuki Sasaki:
Associate Professor, Department of Development Studies, PIASS(Protestant Institute of Arts and Social Sciences)Rwanda
International Mission Volunteer, Japan Baptist Convention
Mrs. Megumi Sasaki:
Director, "Umucyonyanza Store" (Online store for the Rwandan Women's Cooperative, producing and selling Rwandan material goods)
https://umucyonyanza.stores.jp/
- Event Details -
Language: Japanese (English subtitles, Japanese/English Q&A session)
Time: 16:30~18:30 (Periods 6~7)
 ・First half of lecture - Video lecture by Dr. Sasaki and Mrs. Sasaki
 ・Latter half of lecture - Live Q&A session with Dr. Sasaki and Mrs. Sasaki via Zoom
Lecture Mode: Hybrid (Face-to-face and Online)
Venue: 
 ・Face-to-face - International Christian University, Main Building, Room 260
 ・Online - Zoom (Zoom information provided after registration below)
If you are interested in joining via Zoom, please register using the link below (if you will be joining face-to-face, there is no need for registration).
https://forms.gle/MScBXXam7ZH4QAQQ6
Please feel free to contact us at icupri@icu.ac.jp if you have any questions.
We look forward to seeing you there!
This project was made possible with support and funding from the Japan ICU Foundation.
-  ICU Reconciliation Forum Spring 2022 Speaker Series Schedule - 
"Religious background on the Russian invasion of Ukraine"
(Wed 18 May  16:50-18:20  @Othmer Library, 1st FL, CTL space)
Prof Kazuma Momoi : Photo journalist/Keisen University Professor of Humanities
"Invitation to 'Journey of Reconciliation' - living as ambassadors of reconciliation"
(Thurs 19 May  16:00-17:00  @D-kan auditorium foyer)
Revd Katsuki Hirano : ICU graduate/Christian Minister/Co-founder of Christian Forum for Reconciliation in Northeast Asia
"Reconciliation: A Christian Vision of Justice, Peace, and Healing." (Co-hosted by Institute of Christianity and Culture)
(Wed 8 June  16:00- 17:30 @Alumni House 2F)
Dr Chris Rice: Director, Mennonite Central Committee United Nations Office/former Director of the Center for Reconciliation, Duke University/Co-founder, Christian Forum for Reconciliation in Northeast Asia/ Author, Reconciling All Things.