[PRI] Open Lecture on "A New World Order? From a Liberal to a Post-Western Order"
Friday,June 3,2022
---
Peace Research Institute Open Lecture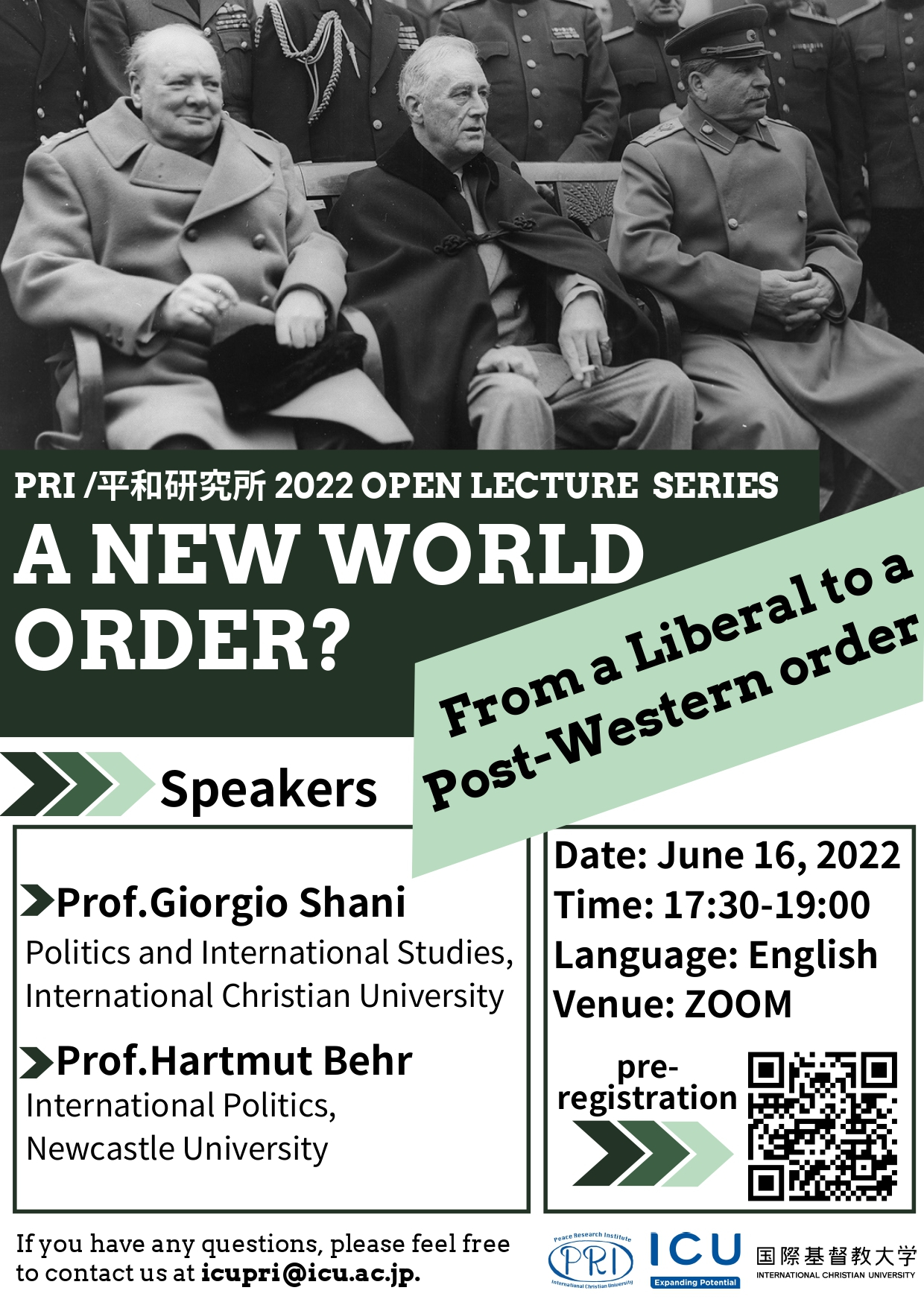 "A New World Order? From a Liberal to a Post-Western Order"
Thursday, June 16, 2022
ICU's Peace Research Institute would like to welcome all students, faculty, and staff to come join the open lecture on "A New World Order? From a Liberal to a Post-Western Order"! We are pleased to have Professor Giorgio Shani (ICU), who specializes in Politics and International Studies, and Professor Hartmut Behr(Newcastle University), who specializes in International Politics, as our guest speakers for this open lecture, who will be giving their insight on the following.
The unprovoked invasion of the sovereign state of Ukraine by Russia constitutes the gravest challenge to the post-war international order and has raised the spectre of a nuclear conflagration between Russia and the West. The conventional narrative that has emerged frames the conflict as a struggle for democracy against authoritarianism: Russian action is seen to threaten not only the territorial integrity of Ukraine but the entire liberal international order which emerged after the collapse of the USSR. We argue that, while condemning Russian aggression, we also need to critically interrogate the "universal" values upon which the liberal international order are based and conclude that a "new world order" is needed based on plurilogical dialogue.
For further details, please refer to the below article co-written by Prof. Shani and Prof. Behr:
https://www.e-ir.info/2022/03/13/opinion-a-new-world-order-from-a-liberal-to-a-post-western-order/
Additional event details are as follows:
– Event Details –
Language: English
Time: 17:30~19:00
Lecture Mode: Online
Venue: Zoom (Zoom information provided after registration below)
If you are interested in joining us, please register using the link below.
https://forms.gle/guYvnRDqFbnfJjYG8
Please feel free to contact us at icupri@icu.ac.jp if you have any questions.
We look forward to seeing you there!