[PRI] Open Lecture on "Aging, Hegemonic Masculinities, and Nativism among Irish Unionist Ex-combatants"
Tuesday,February 8,2022
---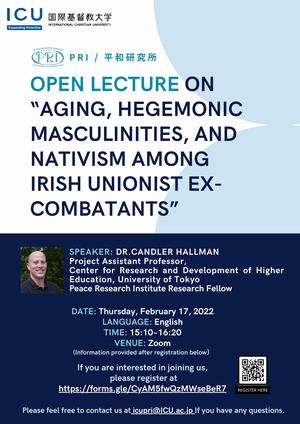 PRI 2.17 Dr. Candler Hallman Open Lecture.pdf
PRI Open Lecture
"Aging, Hegemonic Masculinities, and Nativism among Irish Unionist Ex-combatants"
Thursday, February 17, 2022
ICU's Peace Research Institute would like to welcome all students, faculty, and staff to come join the open lecture on "Aging, Hegemonic Masculinities, and Nativism among Irish Unionist Ex-combatants"! We are pleased to have Dr. Candler Hallman (University of Tokyo), who is a anthropologist specializing in cultural dimensions of peacebuilding, as our guest speaker for this open lecture. Additional event details are as follows:
Language: English
Time: 15:10~16:20 (5th period)
Venue: Zoom (Information provided after registration below)
If you are interested in joining us, please register at
https://forms.gle/CyAM5fwQzMWseBeR7
Please feel free to contact us at icupri@icu.ac.jp if you have any questions.
We look forward to seeing you there!