A Conversation with Fukazawa Ushio and Yamazaki Nao-Cola: Pregnancy, Childbirth, and Breastfeeding in Japanese Literature
Monday,October 25,2021
---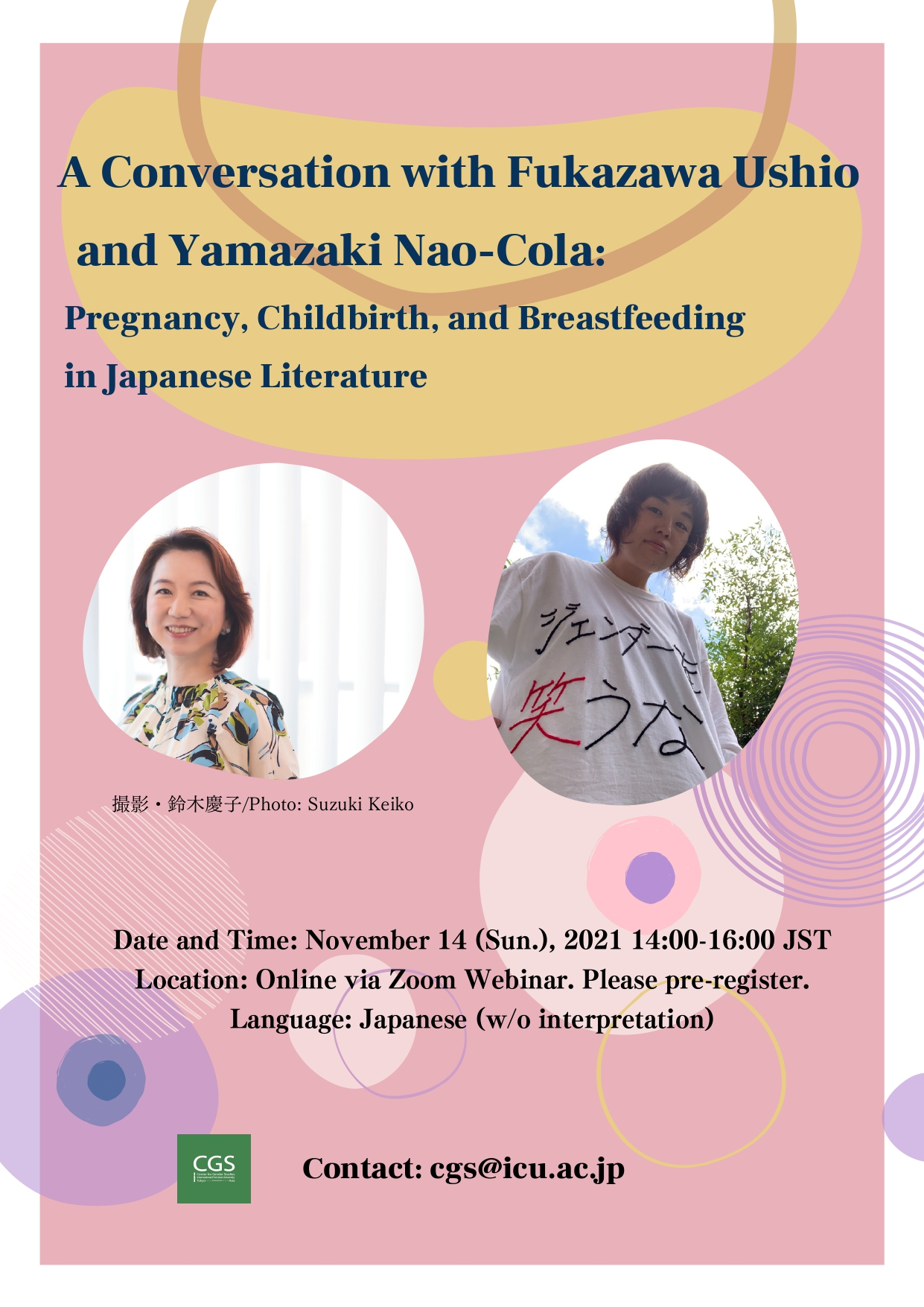 The Center for Gender Studies (ICU) is happy to invite you to attend a virtual conversation with authors Fukazawa Ushio and Yamazaki Nao-Cola, with a focus on the representation of pregnancy, childbirth, and breastfeeding in Japanese literature.
Date and Time
Sunday, 14th of November 2021, 14:00-16:00 JST
Venue
Online via Zoom Webinar. Please register in advance.
https://icu.zoom.us/webinar/register/WN_LYjzjWUJRPWP11z3XjrDlw
Zoom software is required to join the webinar.
Language
Japanese
Participant Profiles
Fukazawa Ushio
Born in Tokyo, Fukazawa Ushio made her literary debut in 2012 with the story "Kanae no obasan," which was awarded the By Women for Women Restricted-18 Literary Prize (Onna ni yoru onna no tame no R-18 bungakushō) and later included in Hansaran. Ai suru hitobito (2013). Fukazawa is also the author of Ranchi ni ikimashō (2014), Hitokado no chichi e (2015), Mamatachi no gekokujō (2016) and Umi o daite tsuki ni nemuru (2018). In her long novel Chibusa no kuni de (2020), she tackled the issues of breastfeeding and motherhood.
Yamazaki Nao-Cola
Born in Kitakyushu, Yamazaki Nao-Cola made her debut in 2004 with the novel Hito no sekkusu o warau na, which was awarded the Bungei Prize and nominated for the Akutagawa Prize. Yamazaki's novels include Ukiyo de ranchi (2006), Kono yo wa futari gumi de wa dekiagaranai (2010) and Utsukushii kyori (2017) among many others. Ribon no otoko (2019) and "Funyu no yume" (included in Nikutai no jendaa o warau na, 2020) are only some examples of Yamazaki's depiction of new types of family life.
Letizia Guarini
Letizia Guarini is an Assistant Professor at the Center for Gender Studies at International Christian University (ICU). Her research focuses on the father-daughter relationship in contemporary Japanese literature. She is also interested in the representation of breastfeeding in contemporary fiction.
Contact
cgs@icu.ac.jp