History Lessons—The Present of Feminist/Queer Film Curation in Japan
Monday,January 17,2022
---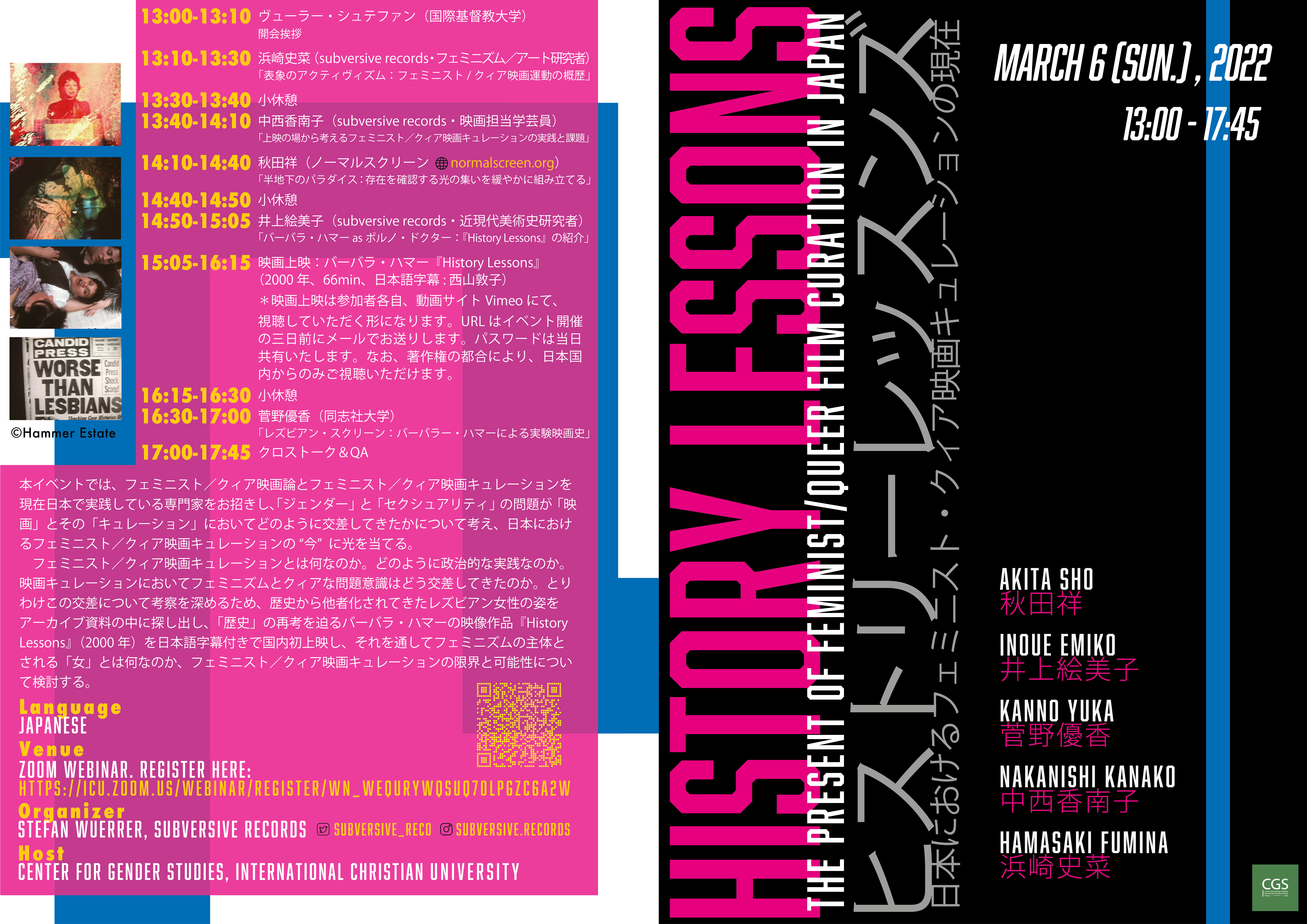 For this event, we have invited experts and practitioners of feminist/queer film theory and curation in Japan to discuss how issues of gender and sexuality intersect within the realm of film and its curation, and to shed light on the present of feminist/queer film curation in Japan. How can we define feminist/queer film curation? In what ways is it a political practice? How have feminist and queer issues intersected in film curation?
One way we will approach these issues is through Barbara Hammer's "History Lessons" (2000). Searching for images of lesbian women — one of History's Others — in archival footages and documents, Hammer's "History Lessons", which will be screened for the first time here in Japan with Japanese subtitles, forces us to reconsider not only what we refer to by "history", but also who we refer to when we speak of woman as the subject of feminism. As such, this movie offers us a superb opportunity to discuss the limits and possibilities of feminist and queer film curation.
Date and Time
March 6th (Sunday), 2022 13:00-17:45
Venue
Zoom Webinar
Register here: https://icu.zoom.us/webinar/register/WN_WEqURYwqSuq70lpgzc6a2w
Speakers
Sho Akita (Normal Screen)
Inoue Emiko (subversive records, researcher of modern and contemporary art history)
Kanno Yuka (Doshisha University)
Nakanishi Kanako (subversive records, film programmer)
Hamasaki Fumina (subversive records, researcher of feminism and art)
Schedule
13:00-13:10 Introductory Remarks by Wuerrer Stefan (Center for Gender Studies, International Christian University)
13:10-13:30 Hamasaki Fumina, "Activism for/against Representation: A Brief History of the Feminist/Queer Film Movements"
13:30-13:40 Short Break
13:40-14:10 Nakanishi Kanako, "Practices and Challenges of Feminist/Queer Film Curation in Japan"
14:10-14:40 Akita Sho, "A Paradise in the Semi-Underground: Loosely Assembling Existence-Affirming Bundles of Light"
14:40-14:50 Short Break
14:50-15:05 Inoue Emiko, "Barbara Hammer as Porn Doctor: An Introduction to 'History Lessons'"
15:05-16:15 Screening of Barbara Hammer's "History Lessons" (2000, 66min, Japanese subtitles by Nishiyama Atsuko)
The screening of this film will be conducted via Vimeo. Each participant will receive a password-protected link to the film three days prior to the event. The password will be shared on the day of the event. Please note that due to copyright restrictions, this film can only be viewed from within Japan.
16:15-16:30 Short Break
16:30-17:00 Kanno Yuka, "Lesbian Screen: A History of Experimental Film by Barbara Hammer"
17:00-17:45 Roundtable & QA
Language
Japanese
Organizer
Stefan Wuerrer (Center for Gender Studies, International Christian University), subversive records
Host
Center for Gender Studies, International Christian University
Contact
cgs@icu.ac.jp