"Intimate Battles" Film Screening and Talk Event with Yuki Kusano
Thursday,June 3,2021
---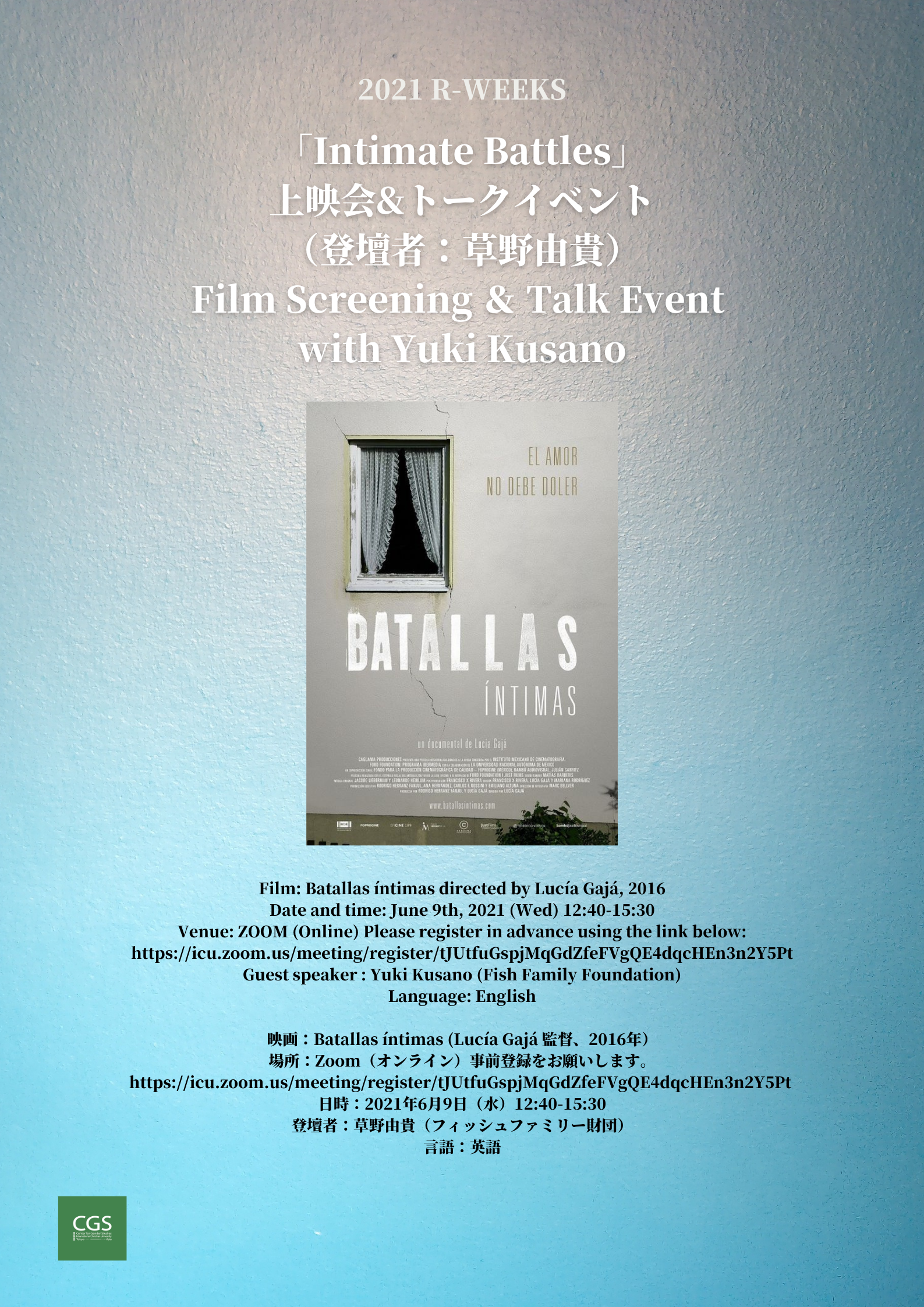 Many people in Japan and around the world are victims of abuse at the hands of their intimate partners. Furthermore, the COVID-19 pandemic—with its lockdowns and people more stressed and worried about life—has led to a spike in intimate-partner violence. In Japan, the total number of consultations on domestic violence in 2020 reached 132,355, the highest number ever.
In order to address the issues of domestic violence and dating violence, we will screen the film "Batallas íntimas," which depicts the stories of five women from different countries who have survived domestic violence.
After the screening, Yuki Kusano, who graduated from ICU with a major in Gender and Sexuality studies and worked as the coordinator of a 24/7 telephone counseling service at All Japan Women's Shelter Network, will talk about domestic violence and dating violence in Japan.
"Intimate Battles" Film Screening and Talk Event with Yuki Kusano
Film: "Batallas íntimas" directed by Lucía Gajá, 2016
Guest speaker: Kusano, Yuki (Fish Family Foundation)
Date and time: June 9th, 2021 (Wed) 12:40-15:30 JST
Venue: ZOOM (Online) Please register in advance using the link below:
https://icu.zoom.us/meeting/register/tJUtfuGspjMqGdZfeFVgQE4dqcHEn3n2Y5Pt
Registrants will be sent a link by email to attend via Zoom on the day of the event. Zoom software is required to join the meeting.
Guest speaker's profile
Yuki Kusano graduated from International Christian University in 2010 with a one-year study at the Department of Women's Studies, University of California, Irvine. After leaving early from the Graduate School of Humanities and Sociology, University of Tokyo, she worked for an import company of women's sexual health-related goods writing online columns and newsletters on sexual and reproductive health and rights and sex education. Later, making use of her major, she moved to a non-profit organization, All Japan Women's Shelter Network, where she became the coordinator of a 24/7 telephone counseling service. Currently, she is working as the Japan Program Manager for the Fish Family Foundation based in Boston, USA, as it opened the Japan Office in 2019, providing executive leadership programs for women in Japan.
This event will be conducted in English (we will accept questions both in English and Japanese).
Contact: Letizia Guarini (guarini.letizia@icu.ac.jp)