NEW

CGS Reading Group Winter Term 2018

Monday,December 3,2018
---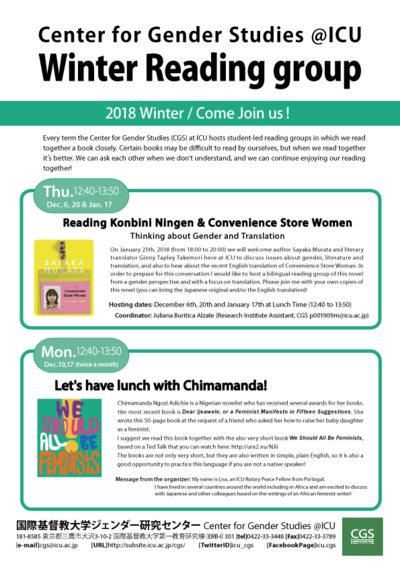 Reading Konbini Ningen & Convenience Store Women: Thinking about Gender and Translation

Every term the Center for Gender Studies (CGS) at ICU hosts student-led reading groups in which we read together a book closely. Certain books may be difficult to read by ourselves, but when we read together it's better. We can ask each other when we don't understand, and we can continue enjoying our reading together!

Hosting dates: December 6th, 20th and January 17th at Lunch Time (12:40 to 13:50)
Location: Center for Gender Studies, International Christian University ERB-1- 301

On January 25th, 2018 (from 18:00 to 20:00) we will welcome author Sayaka Murata and literary translator Ginny Tapley Takemori here at ICU to discuss issues about gender, literature and translation, and also to hear about the recent English translation of Convenience Store Woman. In order to prepare for this conversation I would like to host a bilingual reading group of this novel from a gender perspective and with a focus on translation. Please join me with your own copies of this novel (you can bring the Japanese original and/or the English translation)!

Coordinator: Juliana Buritica Alzate (Research Institute Assistant, CGS p001909m@icu.ac.jp)


Let's have lunch with Chimamanda!

Chimamanda Ngozi Adichie is a Nigerian novelist who has received several awards for her books. Her most recent book is _Dear Ijeawele, or a Feminist Manifesto in Fifteen Suggestions_. She wrote this 50-page book at the request of a friend who asked her how to raise her baby daughter as a feminist.
I suggest we read this book together with the also very short book _We Should All Be Feminists_, based on a Ted Talk that you can watch here: http://urx2.nu/NJii
The books are not only very short, but they are also written in simple, plain English, so it is also a good opportunity to practice this language if you are not a native speaker!

Hosting date:
Monday at Lunch Time (12:40-13:50), twice a month.
Note: the dates for December are 10 and 17 December (due to end of the year holidays).

Message from the organizer:
My name is Lisa, an ICU Rotary Peace Fellow from Portugal. I have lived in several countries around the world including in Africa and am excited to discuss with Japanese and other colleagues based on the writings of an African feminist writer!