NEW

The 7th Annual Event "R-weeks"

Wednesday,May 29,2019
---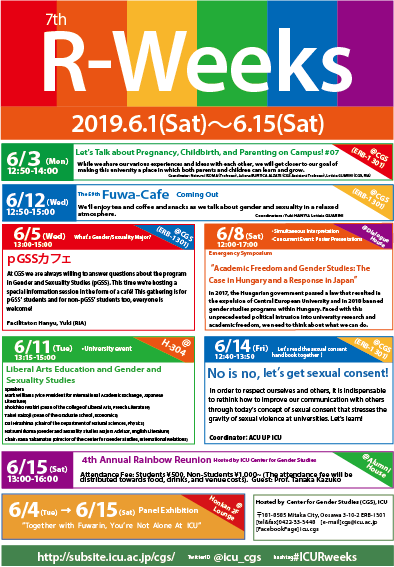 The 7th annual event "R-weeks" will be held during the weeks of June 1st (Sat) to June 15th (Sat), 2019.
R-Weeks is a project in which we hold events and workshops on various problems felt around campus, primarily in terms of gender and sexuality, in order to create an environment in which our voices can be heard. We have planned a variety of events, from lectures to workshops. Together, let us make a campus in which everyone can live safely and comfortably.
+ - + - + - + - + - + - + - + - + - + - + - + - + - + - + -
"Promoting Diversity through Understanding How Majority Privilege Works"
Sponsored by ICU Research Center for Global Language Education・Center for Gender Studies・Peace Research Institute
《Lecturer》Dr. Makiko Deguchi(Sophia University)
《Panelist》  
Ms. Tami Kamikawa(BURAKU HERITAGE Founder)
Prof. Ha Kyung Hee(Meiji University)
《Discussants》
Prof. Ikumi Ozawa (ICU)
Dr. Ohe Hye-Gyeong(ICU)
Date: June 1st, 2019 (Sat)
Time: Reception (9:30~) 
10:00~11:00 Lecture
11:00~12:00 Panel discussion
13:00~15:00 Workshop
Place: International Christian University (ICU) Kiyoshi Togasaki Memorial Dialogue House 2F International Conference Room
Please register at →https://bit.ly/2JcBPgM
+ - + - + - + - + - + - + - + - + - + - + - + - + - + - + -
Let's Talk about Pregnancy, Childbirth, and Parenting on Campus! #07
Do you think universities have nothing to do with pregnancy, childbirth, and parenting? Our university, ICU, is supported by a number of people who have children such as students, lecturers, and staff. What kind of institutions and facilities are needed for parents to concentrate on their studies and work on campus and for their children to grow up healthy? While we share our various experiences and ideas with each other, we will get closer to our goal of making this university a place in which both parents and children can learn and grow. We also welcome both parents and those who wish to become parents while working in the future! You can bring your own lunch.
We will be waiting for you with tea, coffee, and snacks!
Date: June 3rd (Mon), 2019
Place: Center for Gender Studies(CGS) ERB-I 301, International Christian University
Fee: Free, No Appointment Necessary
Language: Japanese/English
Coordinator Natsumi IKOMA (Professor), Juliana BURITICA ALZATE (CGS Assistant Professor), Letizia GUARINI (CGS, RIA)
ICU Nursing Room is now accepting user applications. More information is available at the CGS upon request.
+ - + - + - + - + - + - + - + - + - + - + - + - + - + - + -
pGSS Café
At CGS we are always willing to answer questions about the program in Gender and Sexuality Studies (pGSS). This time we're hosting a special information session in the form of a café! This gathering is for pGSS' students and for non-pGSS' students too, everyone is welcome!
Date & Time: June 5th, 2019 (Wed.) 13:00- 15:00
Venue: CGS (ERB-1 301)
Facilitator: Yuki HANYU (RIA)
+ - + - + - + - + - + - + - + - + - + - + - + - + - + - + -
"A Place in the Middle" A joint CGS and PRI event part of the PRI film and discussion series
This is a documentary film screening about a young girl in Hawai'i who wants to have a male part in her hula group. Her teacher, a transgender woman, supports her and her decision to live "in the middle." Professor Etsuko Kato (Anthropology) will facilitate and Kalika Kastein, an ICU graduate student and Hawai'i educator, will assist with pre-film and post-film discussion.
WHERE: H-204
WHEN: Friday ( 金 ), June 7, 2019
TIME: 11:30 - 12:40, 3rd period
LANGUAGE: English audio, Japanese subtitles
+ - + - + - + - + - + - + - + - + - + - + - + - + - + - + -
Emergency Symposium "Academic Freedom and Gender Studies: The Case in Hungary and a Response in Japan"
In 2017, the Hungarian government passed a law that resulted in the expulsion of Central European University and in 2018 banned gender studies programs within Hungary. Faced with this unprecedented political intrusion into university research and academic freedom, we need to think about what we can do.
Date: Saturday 8 June, from 12:00 to 17:00
Venue: International Conference Room, 2F Dialogue House, ICU
Keynote Speaker
Andrea Peto (Professor, Department of Gender Studies, Central European University)
Respondent / Discussant
Mariko Adachi (Professor Emeritus, Ochanomizu University)
Sonja Dale (Assistant Professor, Faculty of Social Sciences, Hitotsubashi University)
Yayo Okano (Professor, Graduate School of Global Studies, Doshisha University)
Chelsea Szendi Schieder (Associate Professor, Faculty of Economics, Aoyama Gakuin University)
Akiko Shimizu (Professor, Graduate School of Arts and Sciences, The University of Tokyo)
Grace En-Yi Ting (Faculty of Letters, Arts and Sciences, Waseda University, Japan Society for the Promotion of Science Postdoctoral Fellow)
James Welker (Professor, Department of Cross-Cultural Studies, Faculty of Foreign Languages, Kanagawa University)
Chair
Natsumi Ikoma (Professor, Center for Gender Studies, ICU)
●Simultaneous Interpretation provided
●Concurrent Event: Young Researchers' Poster Presentations
+ - + - + - + - + - + - + - + - + - + - + - + - + - + - + -
Liberal Arts Education and Gender and Sexuality Studies
We will discuss the role of Gender and Sexuality Studies within Liberal Arts Education.
This event is not open to the general public, but we welcome all ICU students and professors to join us.
Date: Tuesday 11 June, from 13:15 to 15:00
Venue: Honkan 304
Speakers:
Mark Williams (Vice President for International Academic Exchange, Japanese Literature)
Shoichiro Iwakiri (Dean of the College of Liberal Arts, French Literature)
Taisei Kaizoji (Dean of the Graduate School, Economics)
Dai Hirashima (Chair of the Department of Natural Sciences, Physics)
Natsumi Ikoma (Gender and Sexuality Studies Majors Advisor, English Literature)
Chair:
Kana Takamatsu (Director of the Center for Gender Studies, International Relations)
+ - + - + - + - + - + - + - + - + - + - + - + - + - + - + -
The 59th Fuwa Café
Theme: "Coming Out"
Date: June 12th (Wed.), 2019
Place: CGS (ERB-1 301)
We'll enjoy tea and coffee and snacks as we talk about gender and sexuality in a relaxed atmosphere. Coming in the middle or leaving early are both OK. No entrance fee; no reservation needed.
Facilitators: Yuki HANYU and Letizia GUARINI
+ - + - + - + - + - + - + - + - + - + - + - + - + - + - + -
5th Annual Rainbow Reunion, Hosted by ICU Center for Gender Studies
CGS (Center for Gender Studies, International Christian University) was established in April 2004 as an alternative communication space open to all persons with an interest in gender and sexuality research.
Over the past ten plus years, CGS has held countless events that cross the borders between academia and activism. Many people interested in the various issues surrounding gender and sexuality have gathered here, regardless of their affiliation with the university, creating and expanding ties among a wide range of people.
With that said, CGS is proud to announce we will host the 4th Annual Alumni Reunion, dubbed "Rainbow Reunion," on this coming June 15th (Sat.), 2019 at the Alumni House in ICU.
For those who learned about gender and sexuality while studying at ICU, and for those who were not able to…
For those who have someone close by to talk about sexuality, the body, identity, etc., and for those who do not…
For those who attended CGS events frequently, and for those who will attend for the first time…
We hope this event will become a space where new ties are created, where we can casually discuss what has transpired until now and what is happening at present.
We look forward to your participation in this event!
Date & Time: June 15th, 2019 (Sat.) 13:00-16:00
Venue: Alumni House 2nd Floor Lounge (ICU campus, 3-10-2 Osawa, Mitaka, Tokyo)
Attendance Fee: Students ¥500, Non-Students ¥1,000~ (Please pay what you can afford)
※ The attendance fee will be distributed towards food, drinks, and venue costs. Any leftover money will be donated towards funding the "Gender and Sexuality Rainbow Award," presented to superlative undergraduate theses in Gender and Sexuality Studies.
※ Admission is free for elementary school students and younger.
● Participation is open to those who have studied or worked at ICU (university or high school), have attended CGS events, or have an interest in gender and sexuality (first-timers are also welcome).
Registration: It is possible to participate without registering, but we would like to know the approximate number of participants in advance, so please inform us of your attendance by June 8th (Sat.), 2019 at the following e-mail address:
rainbowreunion.cgs☆gmail.com
(please convert "☆" into "@" )
Miscellaneous:
There is a universal restroom on the 1st floor of Alumni House. You can access the 2nd floor by using an elevator.

Coming or leaving midway through the event is OK. Participate at your convenience.
There is no dress code. Come in your preferred attire.
You are free to take pictures of the event, but please protect the privacy of the other participants.
Children are welcome to join (there is no daycare on campus).
Details about the event, changes, or cancellations due to weather will be announced at the following: Facebook (https://www.facebook.com/icu.cgs); Twitter (@icu_cgs); Website (http://subsite.icu.ac.jp/cgs/)
Center for Gender Studies, International Christian University
ERB 301, 3-10-2 Osawa Mitaka Tokyo
181-8585 JAPAN
Tel & Fax: +81-422-33-3448
+ - + - + - + - + - + - + - + - + - + - + - + - + - + - + -
Panel Exhibition: "Together with Fuwarin, You're Not Alone At ICU"
Dates: From June 4th (Tue) until June 15th (Sat), 2019.
Venue: Honkan's lounge (2nd floor)
This panel exhibition "Together with Fuwarin, You're Not Alone At ICU" began in 2015, and aims to raise awareness regarding gender and sexuality issues as well as further expand and make visible LGBT students and the broadening circle of support and protection at ICU.
+ - + - + - + - + - + - + - + - + - + - + - + - + - + - + -