CGS Newsletter 003 Available Now!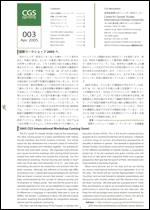 The third issue of the CGS Newsletter is now available both in print and online. Click the URL to download the PDF version.
Contents of the CGS Newsletter 003
2005 CGS International Workshop Coming Soon!
2005 International Workshop Coordinator: Ikoma, Natsumi
Feature: 2004 CGS International Workshop
Publication of the CGS Journal No.00
CGS editorial dept.
News from CGS
Joint Symposium: History and Gender
ICU Student: Kawasaka, Kazuyoshi
Women and the Sciences: L. Schiebinger Lecture
Osaka Univ. Graduate Student: Kubota, Hiroyuki
Politics of Metaphor and Discourse
ICU Exchange Student: Cara Fantini
Invitation to PGSS !
The PGSS Steering Committee
Invitation for Contributions to CGS Journal 01
The CGS Editorial Committee
News from Japan
News Bulletin: Victory for Plaintiffs
ICU Graduate Student: Hirano, Ryo
Japan's Human Trafficking Problem
ICU Student: Shimizu, Yudai
A Gender Perspective for the Jury System!
Senshu Univ. Graduate Student: Tamura, Naoko
A Transcultural Night on the Milky Way
ICU Graduate Student: Azuma, Shiho
News from Asia
Sex Tourism Industry in Southeast Asia
ICU Graduate: Yoshinari, Aiko
Marriage Controversy in China: Who Wins?
ICU Graduate Student: Zhu, Huiwen