Announcement: 12th Issue of CGS Journal, "Gender and Sexuality"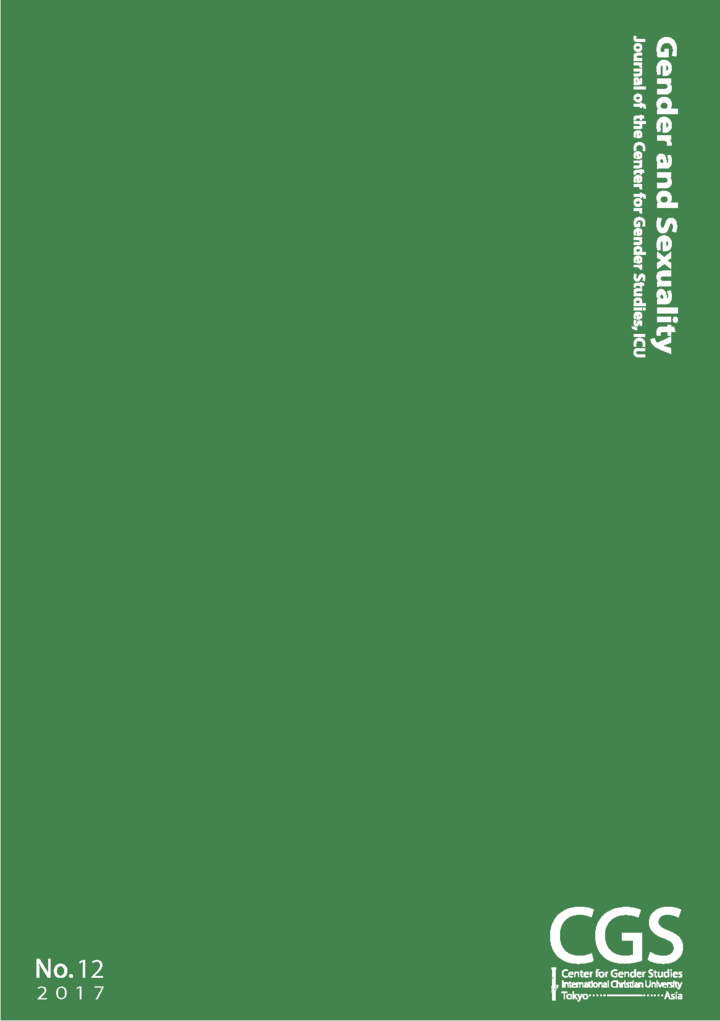 "Gender and Sexuality 12" can be downloaded as a PDF file from the link listed below.
CGSjnl012.pdf (3.1MB)
Files of each articles are under construction.
---
Invited papers: 2015 CGS Symposium
"Fairy Tales, Their Legacy and Transformation: Gender, Sexuality and Comparative Literature"
"Special Contribution" Column
Etsuko KATO
Wolves and Witches: Sexual Outcasts in Angela Carter's Fairy Tales
Natsumi IKOMA
Foot-Loose and Fancy-Free: Song and Dance as Representations of Gender and Sexuality in Shakespeare's Fairy Plays
Christopher SIMONS
Konoike Tomoko's Wolf Girls in the Woods: Contemporary Japanese Fairy-Tale Adaptations in Conversation with the West
Mayako MURAI
Research Papers
Oh Woman, Where Art Thou? Rethinking Yoshiya Nobuko's Short Story Onibi (1951) from a Feminist Perspective
Stefan WUERRER
Between (wo)men: The bisexual triangular relationship and its 'heterosocial bond' in Hitomi Kanehara's Hoshi e ochiru [Falling into stars]
Ryunosuke OOKI
Queers Being Included: A Study on Taiwan's Conscription Policy
Genya FUKUNAGA
The Genealogy of Gender Performativity in J. Butler
Kazuki FUJITAKA
AY2015 Rainbow Award for Gender Sexuality Studies (RAGSS) Recipient
Various Phases of BL/Yaoi Critique in Japan (Abstract)
Yuya HIGUCHI
CGS Events Reports
Report: Talk session
Let's Talk about Pregnancy, Childbirth, and Parenting on Campus! #5
CGS Activity Reports and Schedule
The 25st-26th Meetings of the Tama Gender Education Net
AY 2016 CGS Activity Report
AY 2017 CGS Activity Schedule
Notes
Author Profiles
Regular Members of the Center for Gender Studies
Journal Regulations for Vol. 13
Postscript from the Editor
---