Ended

Kawakami Mieko's Breasts and Eggs: Gender and Translation

Tuesday,September 8,2020
---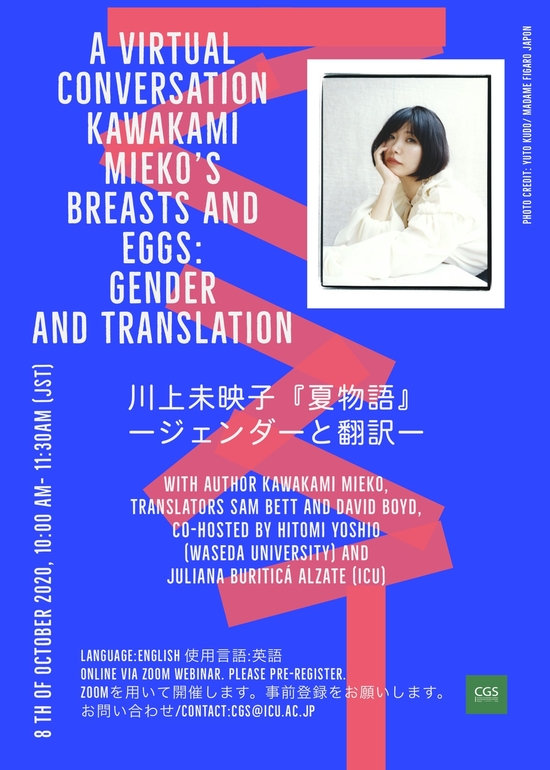 A Virtual Conversation
Kawakami Mieko's Breasts and Eggs: Gender and Translation
The Center for Gender Studies (ICU) together with Professor Hitomi Yoshio (Waseda University) are happy to invite you to attend a virtual conversation with author Kawakami Mieko and translators Sam Bett and David Boyd regarding the latest novel Breasts and Eggs, with a focus on gender and translation.
Date: Thursday, 8 th of October 2020, 10:00 am- 11:30am (Japan Standard Time )
Language: English
Please note that this event will be conducted in English. Author Kawakami will speak in Japanese, and Professor Yoshio will provide consecutive interpretation.
Venue: Online via Zoom Webinar.
Please register in advance as we have a limited capacity using the link below:
https://icu.zoom.us/webinar/register/WN_pufl7oMoRQWlh7ZN4V8h0A
Registrants will be sent a link by email to attend via Zoom Webinar on the day of the event. Zoom software is required to join the webinar.
Kawakami Mieko's Breast and Eggs. Translated by Sam Bett and David Boyd, Europa Editions (USA), Picador (UK), 2020.
The English translation of Kawakami's novel Natsu monogatari (Summer Stories or Natsu's Story, winner of the Mainichi Publishing Culture Award) has been recently published as Breasts and Eggs, taking its title from the original Akutagawa Prize winning novella, Chichi to ran; thus, launching—on a larger scale—Kawakami's work into the English and non-Asian markets. The novel covers the three-day visit depicted in the novella and picks up the story by focusing on the life of the narrator Natsuko a decade later. Here Natsuko explores the prospects of becoming a single mother via artificial insemination by donor (AID). Kawakami is a prolific author with very diverse literary styles, and the themes of female embodiment, gender and women's writing are prominent throughout her work. In Breasts and Eggs the narrator faces dilemmas that are timely in Japan but also speak to a global audience. Through the depiction of everyday life as lived by several women, the novel deals with larger issues such as women's oppression, precarity, domestic violence, reproductive ethics, justice and technology.
Participant Profiles
Mieko Kawakami
Born in Osaka prefecture in Japan, Mieko Kawakami made her literary debut as a poet in 2006. Her first novella My Ego, My Teeth, and the World, published in 2007, was awarded the Tsubouchi Shoyo Prize for Young Emerging Writers. The following year, Kawakami published Breasts and Eggs as a novella, and won Japan's most prestigious literary award, the Akutagawa Prize. In 2016, she was selected as Granta Best of Young Japanese Novelist. The following year, she was selected as one of the 20 most exciting global talents in John Freeman's Future of New Writing. Kawakami is also the author of the novels Heaven, The Night Belongs to Lovers, and the newly expanded Breasts and Eggs, her first novel to be published in English. It will be also published in more than 20 countries. She lives in Tokyo.
Sam Bett studied Japanese at UMass-Amherst and Kwansei Gakuin University. He received the Grand Prize at the 2016 JLPP International Translation Competition, and in addition to translating Kawakami's work, he has translated fiction by Ogawa Yoko, Mishima Yukio and Higashino Keigo, among others. His translation of Mishima's Star (New Directions) was awarded the 2019/2020 Japan-U.S. Friendship Commission (JUSFC) Prize for the Translation of Japanese Literature.
David Boyd is an Assistant Professor of Japanese at the University of North Carolina at Charlotte. Besides translating Kawakami's work, he has also translated fiction by Oyamada Hiroko, Takahashi Genichiro, and Ono Masatsugu, among others. Boyd's translation of Furukawa Hideo's Slow Boat received the 2017/2018 Japan-U.S. Friendship Commission (JUSFC) Prize for the Translation of Japanese Literature.
Hitomi Yoshio is an Associate Professor of Global Japanese Literary and Cultural Studies at Waseda University. Her research includes women writers, feminist literary communities in late 19 th and early 20 th century Japan, and the work of Kawakami Mieko. Yoshio's translations of Kawakami's short stories and essays have appeared in Granta, Freeman's, Monkey Business, Denver Quarterly, Words without Borders, Wasafiri and The Penguin Book of Japanese Short Stories.
Juliana Buriticá Alzate (j.buritica@icu.ac.jp) is an Assistant Professor at the Center for Gender Studies at International Christian University (ICU). Her research brings together queer and feminist theory to explore representations of parenting and related embodied experiences in contemporary Japanese fiction, including the works by Kawakami Mieko.