Finished

Web Survey of LGBT Issues in the Workplace niji VOICE 2019: Building a workplace in which it is easy to work in also for LGBT people, and gathering voices in order to build a society in which it is easy to live in

Tuesday,January 7,2020
---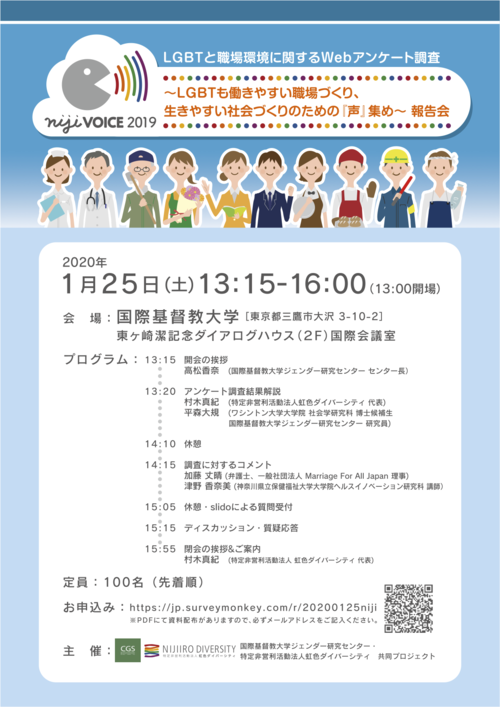 On January 25th (Saturday), 2020 we will host an event to report on "Web Survey of LGBT Issues in the Workplace niji VOICE 2019: Building a workplace in which it is easy to work in also for LGBT people, and gathering voices in order to build a society in which it is easy to live in."
In addition to the analysis of the data by the main researchers (former ICU graduate ID13: Sociology major and Math minor), we will have two guest speakers that are specialists in these matters, and we will have time for a discussion as well. You will need to register but it is free, so please come and join us!
■Date &Time: January 25th, 2020 (Saturday) From 13:15-16:00 (Doors open at 13:00)
■Venue: International Conference Room, Dialogue House 2F, International Christian University (Osawa 3-10-2, Mitaka-shi).
■No fee
■Seating capacity
100 people (first come, first served)
■Registration form (In Japanese only)
https://jp.surveymonkey.com/r/20200125niji


■Program
13:15 Opening Words
Takamatsu Kana (Director of the Center for Gender Studies, ICU)
13:20 Explanation of the research survey
Muraki Maki (Representative of nonprofit organization Nijiiro Diversity)
Hiramori Daiki (Doctoral candidate at Washington University, Department of Sociology and Research fellow at ICU's Center for Gender Studies)
14:10 Break
14:15 Comments about the survey
Kato Takehari (Lawyer, Director, General Incorporated Association of Marriage For All Japan -Freedom Of Marriage For All)
Tsuno Kanami (Lecturer, School of Health Innovation, Kanagawa University of Human Services)
15:05 Break・Gather questions via slido
15:15 Discussion and Q&As
15:55 Closing remarks
Muraki Maki (Representative of nonprofit organization Nijiiro Diversity)
■Co-hosted by:
Center for Gender Studies (CGS), ICU・Nijiiro Diversity (NPO)
■Language: Japanese (No translation provided)
– – –