Ended

[Open Lecture] "Women, Justice and Peace Process in Colombia"

Wednesday,March 20,2019
---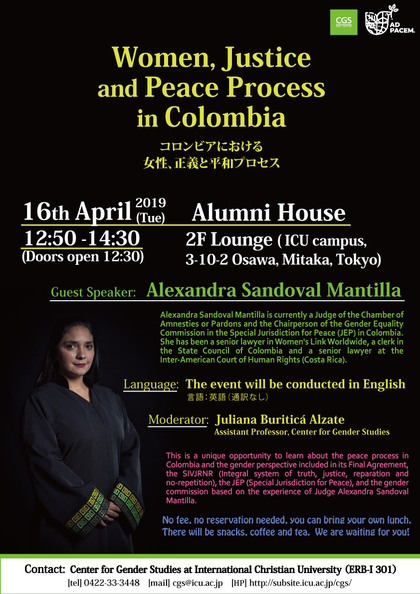 Women, Justice and Peace Process in Colombia
We will welcome Judge Alexandra Sandoval Mantilla here at ICU to learn about the peace process in Colombia and the gender perspective included in its Final Agreement. She will also explain about the SIVJRNR (Integral system of truth, justice, reparation and no-repetition), the JEP (Special Jurisdiction for Peace) while focusing on specific aspects relevant to LGBT people and women, and finally she will share with us her experience working in the gender commission. Then, we will have some time open to discussion and questions from the audience.
Date & Time
16th April, 2019 (Tuesday) From 12:50 to 14:30 (Doors open at 12:30)
Location
Alumni House 2nd Floor Lounge (ICU campus, 3-10-2 Osawa, Mitaka, Tokyo)
Language
The event will be conducted in English
Profile
Alexandra Sandoval Mantilla is currently a Judge of the Chamber of Amnesties or Pardons and the Chairperson of the Gender Equality Commission in the Special Jurisdiction for Peace (JEP) in Colombia. She has been a senior lawyer in Women´s Link Worldwide, a clerk in the State Council of Colombia and a senior lawyer at the Inter-American Court of Human Rights (Costa Rica). She holds a degree in law (J.D.) from Los Andes University of Colombia and an LLM (Cum laude) in International Human Rights and Criminal Justice from Utrecht University. She has lectured in several institutions and seminars in Latin-America countries.
Moderator
Juliana Buriticá Alzate(Center for Gender Studies)
Co-hosted with
AD-PACEM: Student Association and Bi-annual Journal at International Christian University under the Department of Public Policy and Social Research
No fee, no reservation needed, you can bring your own lunch. There will be snacks, coffee and tea. We are waiting for you!
---