A Conversation Between Sayaka Murata and Ginny Tapley Takemori: Gender, Literature and Translation
Thursday,December 6,2018
---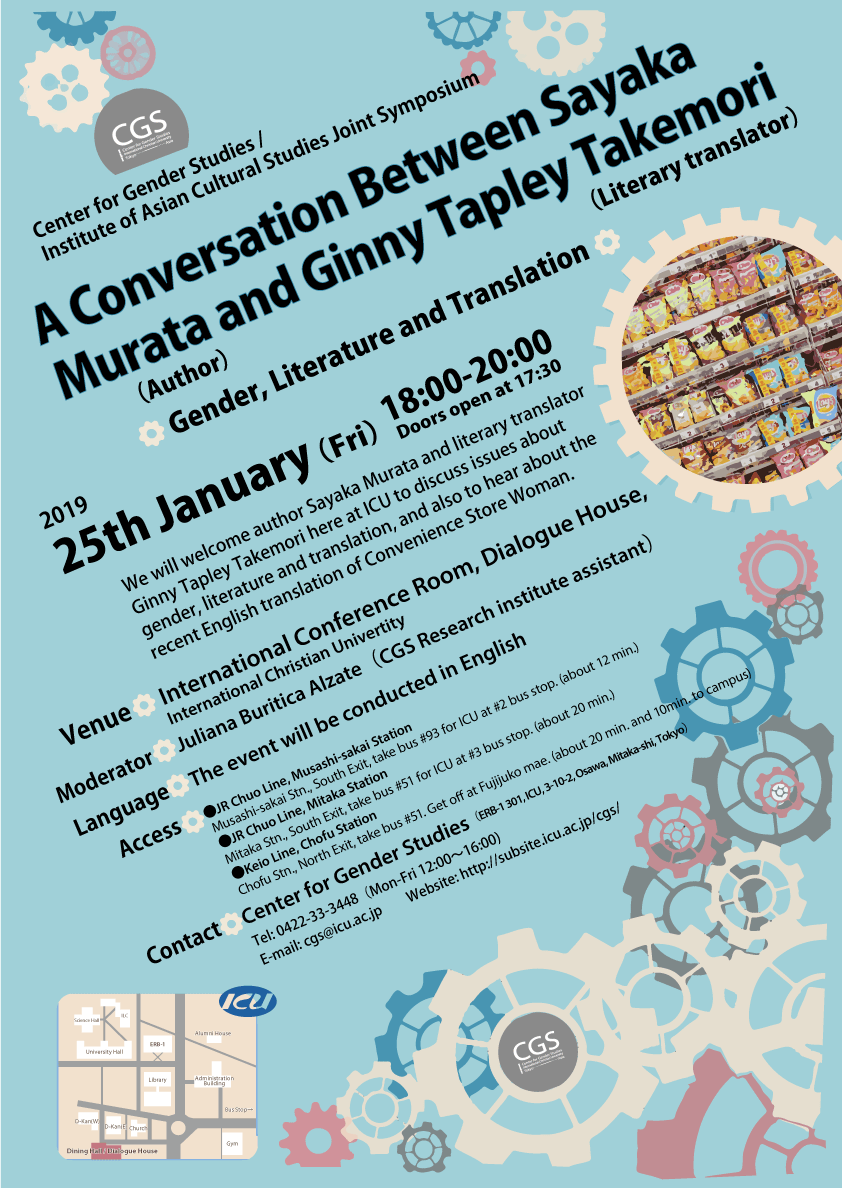 Poster.pdf
We will welcome author Sayaka Murata and literary translator Ginny Tapley Takemori here at ICU to discuss issues about gender, literature, and translation, and also, to hear about the recent English translation of Convenience Store Woman.
Date and time: 25th January (Friday), From 18:00 to 20:00 (Doors open at 17:30)
Venue: International Christian University, Dialogue House, International Conference Room 2F
Language: The event will be conducted in English
No fee, no reservation needed
Guests' Profiles
Sayaka Murata (b. 1979) is a writer that is known for working part-time in a convenience store, and for having written more than 10 novels. She has received the Gunzo Prize for New Writers (2003), the Noma Literary New Face Prize (2009), Mishima Yukio Prize (2013), Sense of Gender Awards (2014), and her novel, Convenience Store Woman won the Akutagawa Prize in 2016. This same year Vogue Japan selected her as a Woman of the Year.
Ginny Tapley Takemori, a British literary translator based in Japan, has translated a wide variety of works from modern and contemporary Japanese authors. She has worked as an editor at Kodansha International and a Spain-based foreign rights agent. She has introduced Murata's work to the English-speaking readership through her translations of "A Clean Marriage" (2014) and Convenience Store Woman (2018).
Moderator: Juliana Buritica Alzate (CGS, Research Institute Assistant)
Interpreter: Manuel Azuaje-Alamo
Co-hosted by the Center for Gender Studies and Institute of Asian Cultural Studies