Gender and Poetry: Itō Hiromi Poetry reading, lecture and life counseling event at ICU
Tuesday,October 3,2017
---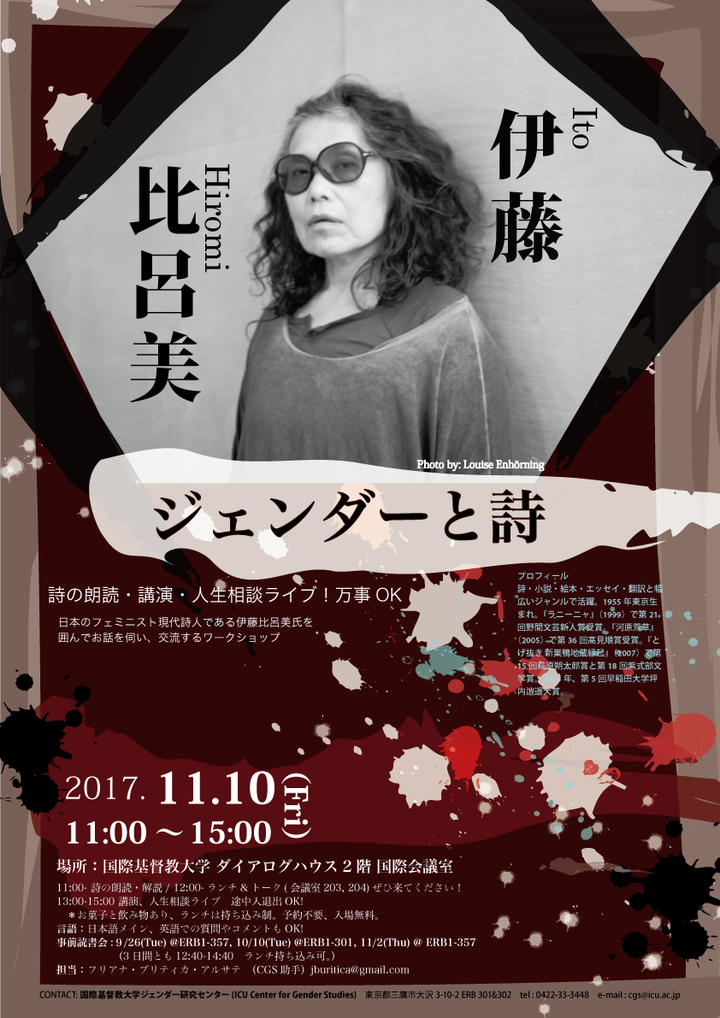 Gender and Poetry: Itō Hiromi
Poetry reading, lecture and life counseling event at ICU
We are very happy to invite you to have a first-hand experience to listen to, and interact with one of Japan's feminist contemporary poets, Itō Hiromi.
Date & Time
November 10th (Friday), 2017 11:00am-15:00pm
Location
International Conference Room, Dialogue House, ICU
Leaving and leaving in the middle are both OK.
No reservation required, no admission fee.
Language
Japanese (main)/ questions and interventions in English are welcome
We will be having lunch in the Dialogue House's Conference Room 203, 204, come and join us!
We will offer some snacks and soft drinks but please bring your own lunch.

Profile
Itō was born in 1955 in Tokyo. She has written more than a dozen collections of poetry, several works of prose and books of essays. She has received multiple literary awards, such as the Takami Jun Prize for Kawara arekusa 河原荒草 (Wild grass on a riverbank 2005; trans. 2015) in 2006; the Hagiwara Sakutarō Prize (2007) and the Izumi Shikibu Prize (2008) for Toge-nuki: Shin Sugamo Jizō engi とげ抜き新巣鴨地蔵縁起, (The thorn-puller: new tales of the Sugamo Jizō, 2007). In 2015 she received the Tsubouchi Shōyō Grand Prize from Waseda University.
---