Ended

The 62nd Fuwa-Café: Coming out

Wednesday,December 2,2020
---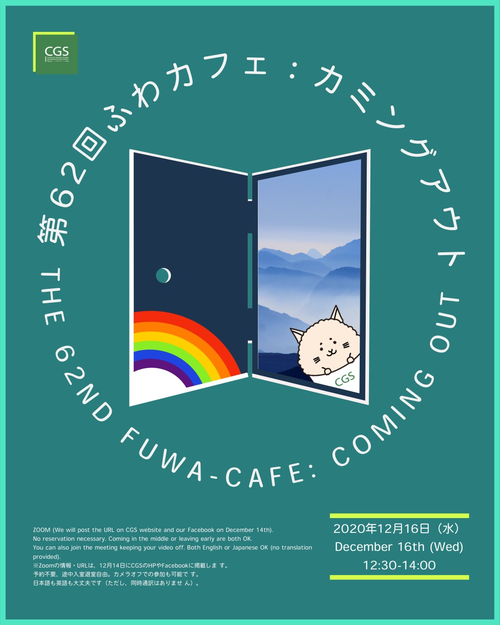 The 62nd Fuwa-Café: Coming out
CGS will continue to be closed due to the current situation regarding the novel coronavirus, except for the library which is partially open.
Since we cannot open the center this term, we will host a shorter version of our usual Fuwa Café via ZOOM.
Date & Time: December 16th (Wed) 12:30-14:00

Platform: ZOOM
After registering, you will receive a confirmation email containing information about joining the meeting.
Coming in the middle or leaving early are both OK.
You can also join the meeting keeping your video off.
Both English or Japanese OK (no translation provided).
Subject: Coming out
We'll enjoy tea and coffee and snacks as we talk about gender and sexuality in a relaxed atmosphere.
Worries we've discussed before include:
"I might be attracted to people of the same sex as me,"
"I might be attracted to both men and women,"
"I have no interest in romance,"
"I have a woman's body, but I want to be seen as a man,"
"I have a man's body, but I want to be seen as a woman,"
"I don't want others to determine my gender for me,"
"I don't want to put a label on my sexual identity."
Besides these examples, if you have something else in mind and want to talk it over, please feel free to bring it up.
The outbreak of coronavirus disease (COVID-19) may be stressful.
If you feel overwhelmed by the current situation, feel free to share your feelings with us.
(Coordinators: Juliana Buritica Alzate, Letizia Guarini)