NEW

CGS Online Reading Group: The Left Hand of Darkness

Friday,June 5,2020
---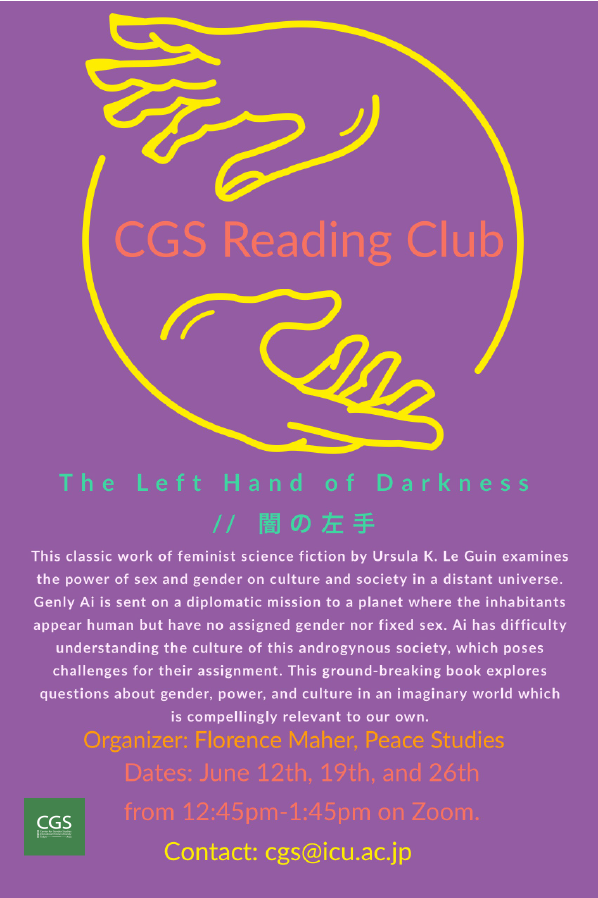 CGS Online Reading Group : Join us!
Every term the Center for Gender Studies (CGS) at ICU hosts student-led reading groups in which we read together a book closely. Certain books may be demanding to read by ourselves, but when we read together it's better. We can ask each other when we don't understand, and we can continue enjoying our reading together!
This time we cannot gather face-to-face but we would like to host an online reading group session via ZOOM.
The Left Hand of Darkness by Ursula K. Le Guin
Hosting dates:
Friday, June 12th 12:45-13:45
Friday, June 19th 12:45-13:45
Friday, June 26th 12:45-13:45
Organizer: Florence Maher, Peace Studies
Platform: ZOOM, for details email cgs@icu.ac.jp