Finished

CGS Reading group Fall term 2019: ① Stone Butch Blues, ②Introduction to Queer Studies in Japanese

Tuesday,September 3,2019
---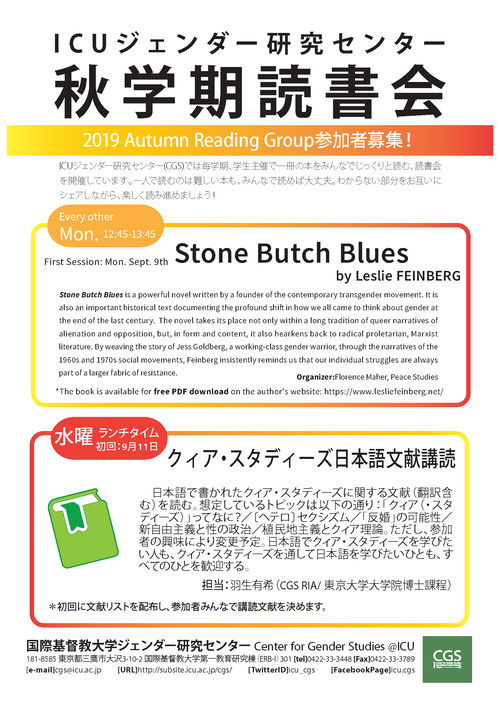 CGS Reading group Fall term 2019: Join us!
Every term the Center for Gender Studies (CGS) at ICU hosts student-led reading groups in which we read together a book closely. Certain books may be difficult to read by ourselves, but when we read together it's better. We can ask each other when we don't understand, and we can continue enjoying our reading together!
(1)Stone Butch Blues by Leslie FEINBERG
Stone Butch Blues is a powerful novel written by a founder of the contemporary transgender movement. It is also an important historical text documenting the profound shift in how we all came to think about gender at the end of the last century. The novel takes its place not only within a long tradition of queer narratives of alienation and opposition, but, in form and content, it also hearkens back to radical proletarian, Marxist literature. By weaving the story of Jess Goldberg, a working-class gender warrior, through the narratives of the 1960s and 1970s social movements, Feinberg insistently reminds us that our individual struggles are always part of a larger fabric of resistance.
*The book is available for free PDF download on the author's website: https://www.lesliefeinberg.net/
Hosting dates: Mondays at lunch time (12:45-13:45)
First session: September 9th, Monday
Location: Center for Gender Studies, International Christian University ERB-1- 301
Organizer: Florence Maher, Peace Studies
---
(2)Introduction to Queer Studies in Japanese
We will read literature on queer theory written in Japanese (including translated texts). Some of the topics we will explore are: "what's queer (studies)?"; (hetero)sexism; a possibility of resistance against marital systems; neoliberalism and sexual politics; colonialism and queer theory. We will consider participants' interests and might change topics accordingly. We welcome everyone, especially those who'd like to study queer studies in Japanese and those who'd like to learn Japanese through queer studies.
Hosting dates: Wednesdays at lunch time (12:45-13:45)
First session: September 11th, Wednesday
Location: Center for Gender Studies, International Christian University ERB-1- 301
Organizer: HANYU, Yuki (Doctoral Student, University of Tokyo/ CGS RIA)
---