CGS Online Reading Group Fall/Winter Term 2021: "The Transgender Issue: An Argument for Justice" by Shon Faye
Monday,November 22,2021
---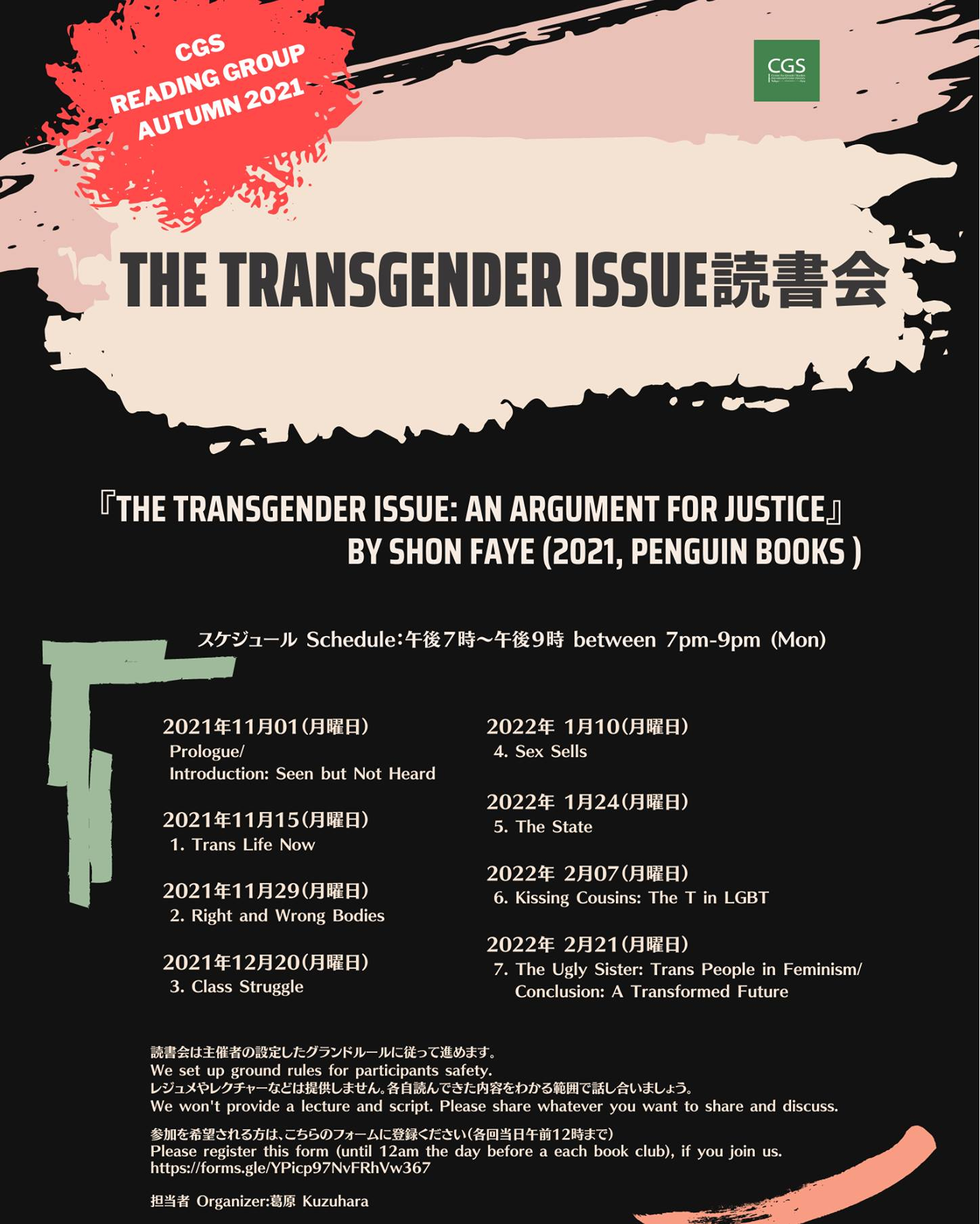 Every term the Center for Gender Studies (CGS) at ICU hosts both CGS staff-led and student-led reading groups in which we read together a book closely. Certain books may be challenging to read by ourselves, but when we read together it's better. We can ask each other when we don't understand, and we can continue enjoying our reading together!
This time we cannot gather face-to-face but we would like to host an online reading group session via ZOOM.
------------
The Transgender Issue: An Argument for Justice by Shon Faye (2021, Penguin Books)
Date and Time:
Mondays from 19:00 to 21:00
Venue:
Online via Zoom.
If you want to join us, please fill in this form by the day before each meeting will be held, 12:00 am.
https://forms.gle/YPicp97NvFRhVw367
Schedule:
~2021~
Nov 1st(Mon) Prologue/Introduction: Seen but Not Heard
Nov 15th(Mon) 1. Trans Life Now
Nov 29th (Mon) 2. Right and Wrong Bodies
Dec 20th(Mon) 3. Class Struggle
~2022~
Jan 10th(Mon) 4. Sex Sells
Jan 24th(Mon) 5. The State
Feb 7th(Mon) 6. Kissing Cousins: The T in LGBT
Feb 21st(Mon) 7. The Ugly Sister: Trans People in Feminism/Conclusion: A
Language:
Japanese and English
We won't provide a lecture and script. Feel free to share your thoughts and join the discussion.
We set up ground rules for participants' safety.
Coordinator: RIA Chikage KUZUHARA (p003967r[at]icu.ac.jp)