Announcement: 10th Issue of CGS Journal, "Gender and Sexuality"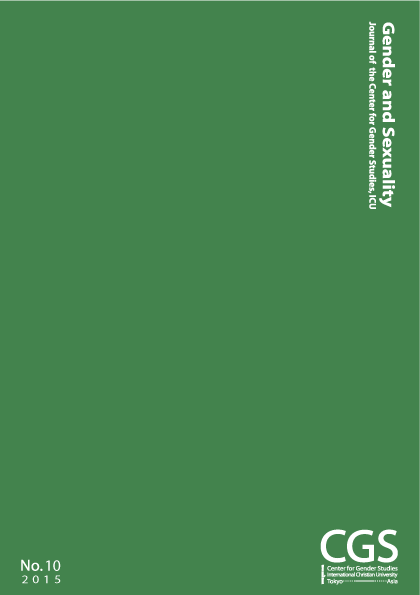 "Gender and Sexuality 10" can be downloaded as a PDF file from the link listed below.
CGSjnl010.pdf(2.8MB)
---
Table of Contents
Research Papers
Double bind of "the right to serve": Gay liberation movement and anti-Vietnam War movement in the United States during the 1970s.
Yuki TAKAUCHI
An Epistemology of Claim-Making Activities and "Missed Encounters"Based on Theories of Coming Out/the Closet
Shingo HORI
The Furusato as Mother: Gendered Perspectives on the Home in Three Meiji and Taisho Literary Texts
Lindsay R. MORRISON
Summary of "Survey on LGBT Issues in the Work Environment 2014"
Challenges of Sexual and Gender Minorities in the Workplace: Multivariate Analyses of Income and Willingness to Continue Working
Daiki HIRAMORI

Research Notes
Case Analysis of Discriminatory Speech in "Survey on LGBT Issues in the Work Environment 2014"
Izumi NIKI
Interdependence, Body Empowerment and Self-Esteem from a Feminist (Dis)ability Perspective
Juliana Buriticá ALZATE
Thinking about Solidarities among Women in Malaysia: Muslim Women's Rights Activism and Muslim Women-Who-Love-Women
Habiba-Mao, UEDA
Media Representations of Young People Performing Caretaking Roles in Families as a Rising Social Problem in Japan
Miho MATSUZAKI

Book review
Women in Dark Times
Daniela KATO

CGS Events Reports
Report "Fuwa Café" (Casual Café)
2nd Annual R-Week Report
"Redefining Boundaries and Conviviality" Symposium Report

CGS Activity Reports and Schedule
The 18th-20th Meetings of the Tama Gender Education Net
AY 2014 CGS Activity Report
AY 2015 CGS Activity Schedule

Notes
Author Profiles
Regular Members of the Center for Gender Studies
Journal Regulations for Vol. 11
Postscript from the Editor
---