NEW

Let's Talk about Pregnancy, Childbirth, and Parenting on Campus! #07

Tuesday,May 21,2019
---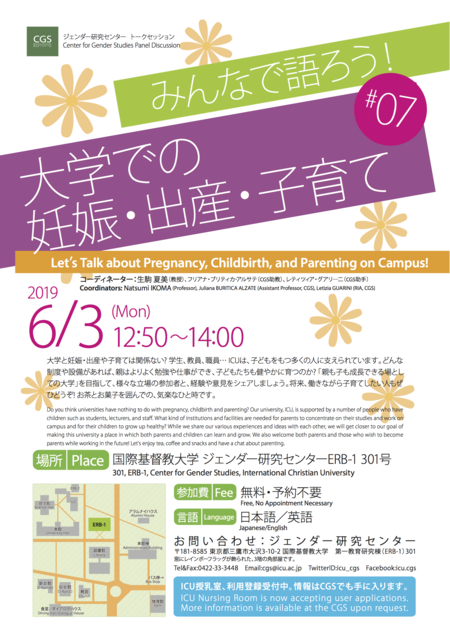 Let's Talk about Pregnancy, Childbirth, and Parenting on Campus! #07
Do you think universities have nothing to do with pregnancy, childbirth and parenting? Our university, ICU, is supported by a number of people who have children such as students, lecturers, and staff. What kind of institutions and facilities are needed for parents to concentrate on their studies and work on campus and for their children to grow up healthy? While we share our various experiences and ideas with each other, we will get closer to our goal of making this university a place in which both parents and children can learn and grow. We also welcome both parents and those who wish to become parents while working in future! You can bring your own lunch. We will be waiting for you with tea, coffee and snacks!
Date
June 3rd (Mon), 2019
Place
Center for Gender Studies(CGS) ERB-I 301, International Christian University
Fee
Free, No Appointment Necessary
Language
Japanese/English
Coordinator
Natsumi IKOMA (Professor), Juliana BURITICA ALZATE (CGS Assistant Professor), Letizia GUARINI (CGS, RIA)
ICU Nursing Room is now accepting user applications. More information is available at the CGS upon request.