Newsletter 017 Available Now!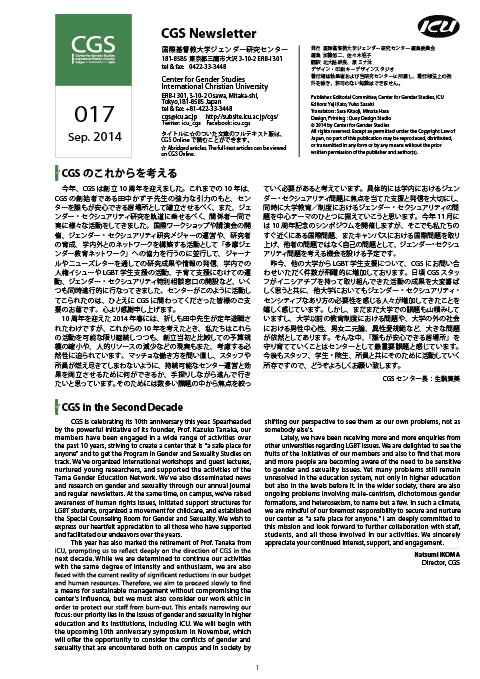 The seventeenth issue of the CGS Newsletter is now available both in print and online. Click the URL to download the PDF version.
Contents of the CGS Newsletter 017
Prefatory Note
NATSUMI IKOMA, CGS in the Second Decade
CGS 10th Anniversary Symposium
KANA TAKAMATSU, Redefining Boundaries and Conviviality: Nationality, Body, Gender and Sexuality
SHINGO HORI, Reframing Conflicts: Racism from the Perspective of Gender and Sexuality
MIHO MATSUZAKI and YUKO SASAKI, The Marginalization of the Body: International Students and the Absent Debate on Gender and Sexuality
Creating a Space at ICU for Sharing Our Thoughts and Feelings
HIKARI MOKUTA, Hashing It All Out at the Fuwa Café
SOICHIRO KAWAME, Student Discussion: So You Think You Know What Coming Out Is All About?
Gender and Sexuality Issues at ICU
Transgender Students at ICU: The Past Decade and Beyond
 TATSUO NUNOSHIBA, MIZUHO AIHARA, AIKO TSUCHIYA,
 KAZUKO TANAKA and MAO UEDA
Parenting on Campus: A Conversation with Professor Anri Morimoto
 ANRI MORIMOTO and NATSUMI IKOMA
News from Asia
KOTO KANNO, Toward a Sustainable Society of Coexistence: Gender Perspectives